The strange rise of the 'hoverboard' and why you shouldn't ride them through traffic
By Anna Doble
Newsbeat online editor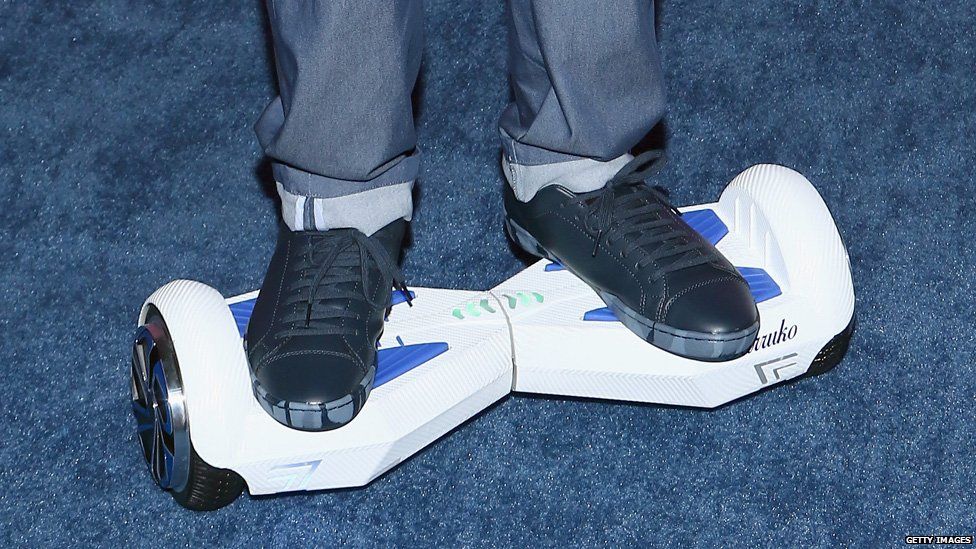 "Hoverboarders" who use their two wheels on the road are being warned they are breaking the law.
That's because they do not meet the legal requirement to be safely used among other traffic.
And if you think that means it's fine to zoom down the pavement instead, then you'll be committing a 180-year-old offence set out in the Highway Act of 1835.
The rules are being pointed out by the Crown Prosecution Service (CPS).
When did they get so popular?
Segways used to be seen as a bit of a joke but the "hoverboard" or "swegway" is now a pretty common sight in parks and around cities, with sales rocketing in the run-up to Christmas.
The smaller hands-free version evolved from the bulkier two-wheeled devices you sometimes see knocking over top sports stars (read on).
Celebrities love hoverboards
Brooklyn Beckham is certainly on board with the 2015 version, which on average costs between £100 and £300.
He posted this clip of himself doing a "double spin" on Instagram and swiftly got more than 300,000 likes.
Chris Brown loves cruising round hotel corridors on his.
Justin Bieber likes to take his on planes.
Meanwhile Wiz Khalifa segwayed onto stage at a gig in August.
And there are claims Harry Styles recently rode his two wheels while completely naked. We can't confirm, sadly.
It doesn't always go well when celebrities and Segways get together.
Katy Perry was captured failing to control hers at the Burning Man festival a few weeks ago.
Here she is gently falling off.
Then Toddla T posted this confused sweg scenario.
Maybe they should have taken some lessons from this next lot.
This video, set to Justin Bieber's What Do You Mean, claims to be the "world's first premium conceptual mini-Segway dance YouTube video".
Meanwhile, let's not forget that time Usain Bolt was knocked off his feet seconds after winning gold at the World Athletics Championships.
Showing off on social media
On Instagram right now, there are nearly 100,000 posts tagged #hoverboard and close to 200,000 tagged #segway.
There are some pretty flash ways of using your board.
Like these speed freaks. Seems like Bieber is the hoverboarder's choice.
Or you could flip things around and do a hand stand.
Or you could just keep relatively still and do a dance.
They're big in Russia but we definitely don't think heels and hoverboards will pass any safety rules.
And in Prague, in the Czech Republic, they have already created designated no-Segway zones.