Meet Twitter's second biggest shareholder, Saudi Prince Alwaleed bin Talal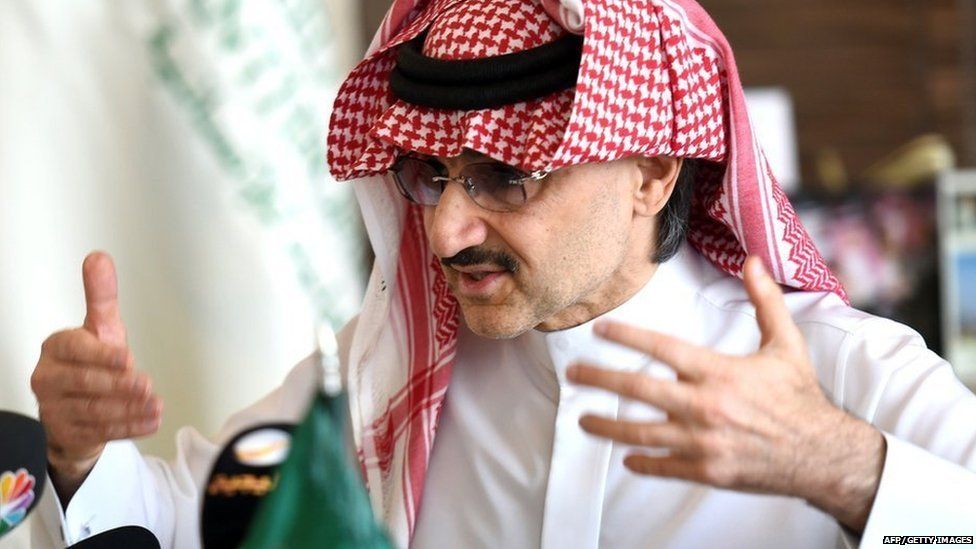 A Saudi billionaire prince, famous for employing a team of dwarves, is now Twitter's second largest shareholder.
Prince Alwaleed bin Talal and his investment firm now owns just over 5%, which is more than Twitter's new chief executive Jack Dorsey.
His cash injection comes at a critical time for Twitter, which is struggling to attract new followers.
Saudi Arabia is said to be home to 40% of all active Twitter users in the Middle East.
Prince Alwaleed bin Talal has already ploughed huge amounts of cash into Twitter. Back in 2011, he invested $300m (£195m) into the company.
Now his firm's put in an extra £33m.
It's being seen as a big thumbs up for Jack Dorsey, the man responsible for getting more people to use Twitter.
The prince can certainly afford the investment. He's the Arab world's richest man, worth an estimated £20bn.
He's proud of it too - he once sued Forbes magazine for placing him at 26 on the World's Rich List when he thought he should have been at number 10.
His interest in Twitter is not surprising. The prince is already a big media player, owning broadcasting organisations and stakes in Disney, 21st Century Fox and News Corp.
Although he's part of the ruling Saudi royal family, he's a businessman not a politician.
He's considered to have "Western" views and has campaigned for women's rights. Half of his staff are women.
His more relaxed attitude contrasts with the country's tight restrictions on what can and can't be said.
Criticism of the government and royal family and the questioning of Islamic beliefs aren't generally tolerated.
The authorities openly admit that widespread filtering takes place online which targets "pornographic", Islam-related, human rights and political sites.
But social media is booming as more and more people get smartphones. Saudi Arabia has the highest per-capita YouTube use of any country in the world.
Naturally, the prince is on Twitter, with 3.82 million followers.
He likes posting photos of himself with important people....
He also employs a lot of dwarves. Apparently they're for his entertainment although he says they're grateful for work in a country with high unemployment.
And it's quite a fortune.
As well as the cash, there's the obligatory fleet of private planes, a super yacht, hundreds of cars, a zoo and his palace with several hundred rooms.
He was inspired to give it all away by Microsoft founder, Bill Gates.
The prince says he hopes to "help build bridges to foster cultural understanding, develop communities, empower women, enable youth, provide vital disaster relief and create a more tolerant and accepting world".