All About That Bass writer says he got $5,679 from 178m streams
By Amelia Butterly
Newsbeat reporter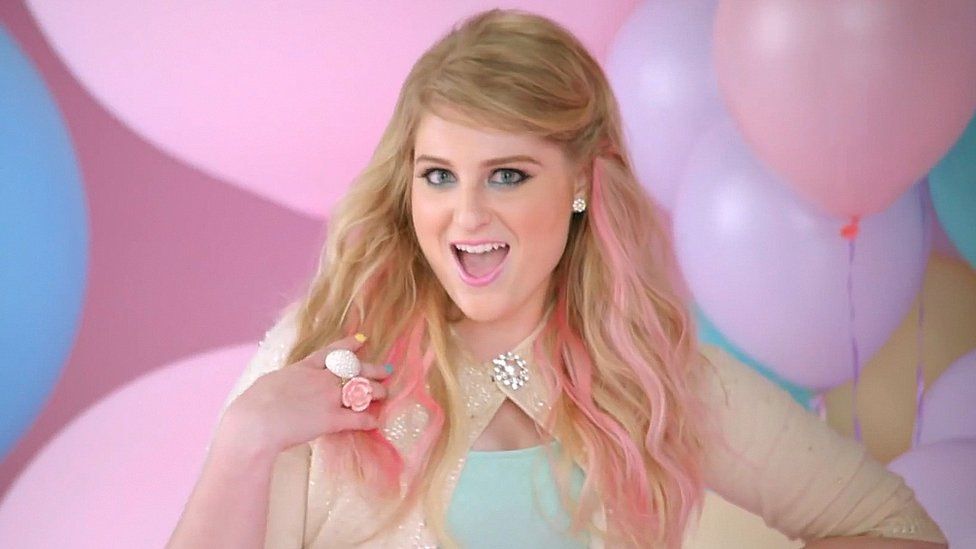 Kevin Kadish, who wrote All About That Bass, says he made just $5,679 (£3,700) from 178 million streams of the song.
"I've never heard a songwriter complain about radio royalties as much as streaming royalties," Mr Kadish said.
"That was the real issue for us, like one million streams equals $90 (£59)."
Mr Kadish co-wrote All About That Bass with singer Meghan Trainor. After offering the song to other artists and being turned down, Trainor went on to record the track herself.
It became one of the biggest-selling digital singles of all time and launched her singing career.
She also became the first act to enter the UK top 40 based purely on streams; and the song then spent four weeks on top of the chart.
Speaking to a meeting hosted by the US House Judiciary Committee at a university in Tennessee, he explained that many songwriters face a challenge when it comes to streaming services.
"For a song like All About That Bass, that I wrote, which had 178 million streams. I mean $5,679? That's my share," he is quoted as saying in a report from The Tennessean.
"That's as big a song as a songwriter can have in their career and number one in 78 countries. But you're making $5,600.
"How do you feed your family?"
Members of Congress are currently investigating music copyright to see if current laws are keeping up with advances in technology.
"America's copyright industries - movies, television programming, music, books, video games and computer software - and technology sector are vitally important to our national economy," said Judiciary Committee Chairman Bob Goodlatte in a statement before the meeting.
"The House Judiciary Committee's copyright review is focused on determining whether our copyright laws are still working in the digital age to reward creativity and innovation in order to ensure these crucial industries can thrive."
Data released in the US this week shows that there has been a growth in streaming revenues, which increased 23% to reach $1.03bn (£697m) during the first half of 2015.
Streaming now accounts for one-third of the US music industry's income, which remains relatively flat, with total revenue down 0.5% to $3.17bn (£2.05bn).
The chairman of the Recording Industry Association of America, Cary Sherman, said the figures showed "the story of a business undergoing an enormous transition."
However the overall value of vinyl was still far smaller than CDs or digital, according to figures from the Recording Industry Association of America (RIAA).
He also warned that "intense demand and billions of streams does not always equal fair market rates or a fair playing field."
Deborah Annetts, chief executive of the Incorporated Society of Musicians, said: "It is galling that Kevin Kadish, the writer of one of the biggest-selling digital singles of all time, has been so poorly compensated.
"While radio plays come with guaranteed payment for all the musicians involved, streaming almost always underpays the individual musicians.
"Musicians need a right to fair pay, and as streaming grows, global copyright laws need to catch-up or risk destroying the musicians who underpin the value of music. The current situation is unacceptable."