Blag your way through the Rugby World Cup
By Simon Mundie
Newsbeat sports reporter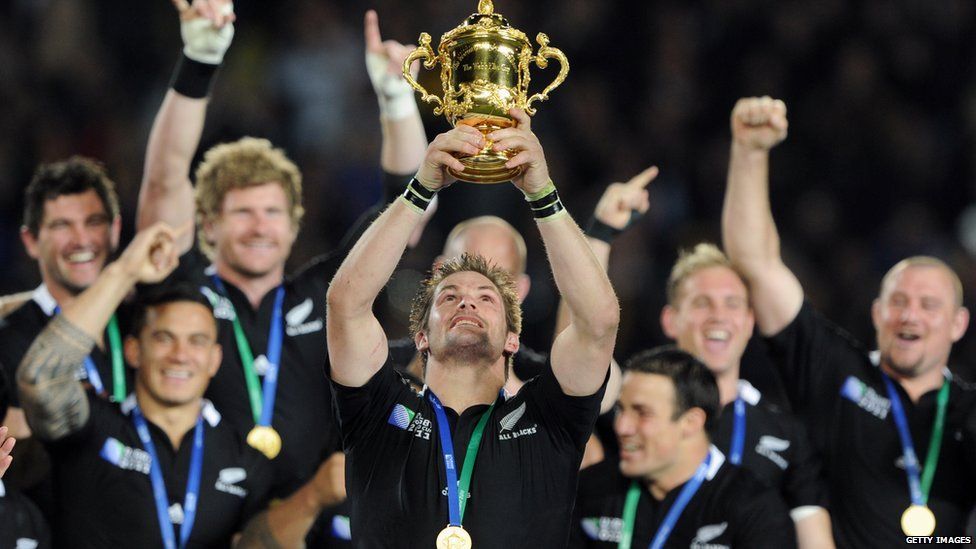 Over the next six weeks there's every chance your local pub will be full of blokes wearing rugby shirts shouting at the big screen.
Yes, the Rugby World Cup is in town and it'll be hard to ignore with 48 matches taking place across 13 venues.
New Zealand are the defending champions and the final takes place at Twickenham on 31 October.
If you're someone who doesn't know a penalty from a conversion, don't panic.
This is how you can bluff your way through six weeks of large men trying to grab each other.
Let's start with the basics. Touch the ball down for a try and get five points. Kick the resulting conversion between the posts and add another two.
A penalty, where you kick between the posts following an infringement by your opponents is worth three points, as is a drop goal, which is what Jonny Wilkinson famously did to win the World Cup for England back in 2003.
Here's what to say to your mates: "Did you know England have scored the most drop goals in the tournament's history?"
In the history of the World Cup, has there ever been a harder group than this year's Group A?
Surely not. Heavyweights England, Australia and Wales are all there and only two can go through.
Here's what to say as you stare up at the telly: "It was the group of death until Wales lost two of their best players to injury."
Invariably the winner will come from a country on the other side of the earth.
New Zealand, South Africa and Australia have each won the tournament twice, only England stopped them back in 2003.
The Kiwis are consistently the best team but have a habit of bottling it unless they're playing at home.
Here's what to say as you grab a bar stool: "I could see a fresh name on the trophy this year. Maybe the Irish."
Not only does New Zealand have the best team, its team also has the best pre-match dance.
All 15 players jump around while making funny noises and sticking their tongues out in an attempt to intimidate their opponents so much they've given up the ghost before the whistle is blown.
Here's what to say before scoffing a Pringle: "Did you know the Haka is actually a Maori war dance? Unfair advantage if you ask me..."
Dan Carter and Richie McCaw are two all-time New Zealand legends likely to retire soon after the tournament.
England's Jonathan Joseph has been an attacking revelation since being brought in by Stuart Lancaster.
Israel Folau has scored 18 tries in 33 tests as Aussie fullback, Wales's George North could get the crowd to their feet and Scotland's fullback Stuart Hogg has some nifty footwork in his locker.
The boozer line: "Richie McCaw just has to be the best back rower ever."
That's the name of the cup they all want. Legend has it rugby was invented by William Webb Ellis, who was playing football when he picked the ball up and made a dash for it because he was bored.
The last orders quip: "I'd be bored too having to play football."