Alan Kurdi: His family's story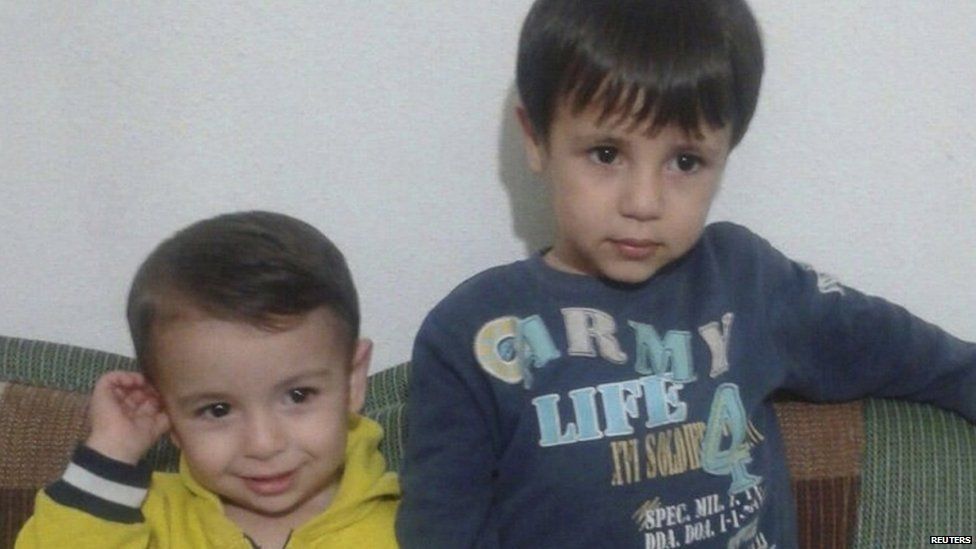 This photo is of the two Syrian boys who drowned along with their mother as they tried to get to the Greek Island of Kos.
The body of three-year-old Alan Kurdi was washed up on a beach in Turkey. Images of him being carried away by a policeman have been shared around the world.
The boys' father, Abdullah, has described the moment his family drowned after their boat was hit by a high wave.
The three were among 12 people who died.
Alan was with his father, mother Rehanna, and five-year-old brother Galip. They wanted to eventually reach Canada to be with Abdullah's sister Tima.
The family joined a small group of refugees in the Turkish port of Bodrum to attempt the 4km (2.5 mile) crossing to Kos
Tima has told how her sister-in-law had phoned her before they left to say she was worried about the water and the boat journey.
She said her brother had made desperate attempts to save his sons but the waves were too strong.
"He look around. He look around and finally he saw his wife floating in the water like a balloon. She doesn't know how to swim," she said.
Tima has now begged her brother not to return to Syria to bury Rehan, three-year-old Alan and five-year-old Galip.
The Canadian authorities have denied they received a refugee application for the Kurdis. Paperwork was submitted for Abdullah Kurdi's brother but officials say it was incomplete.
David Cameron will set out plans next week for the UK to take "thousands more" refugees from camps on the Syrian borders.