Why these biscuits caused a virtual food fight
By Zoe Kleinman and Anna Doble
Newsbeat reporters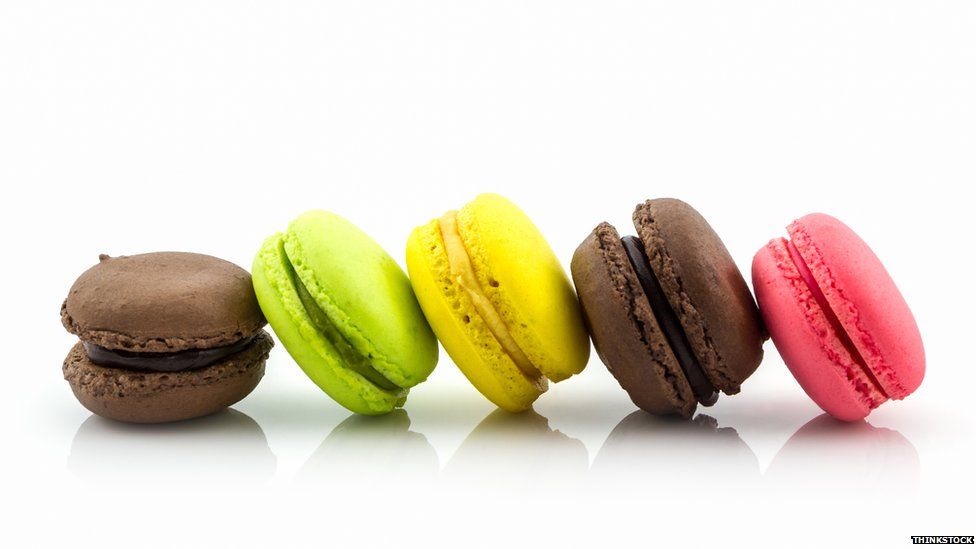 These brightly-coloured sweet treats don't look like the usual source of an internet spat.
Calvin Harris hasn't been eating them. Ariana Grande hasn't licked them.
But they have caused something of a food fight between a bakery and a food blogger.
Reshmi Bennett, founder of the Anges de Sucre bakery, posted her own blog in response to a visit from Mehreen A of Wrap Your Lips Around This.
Mehreen went to the shop to review its macaron and marshmallow range.
But she claimed that when Mehreen arrived she asked for £100 ($155) worth of free samples after receiving a small treat bag.
She wrote: "The blogger seemed shocked that she wasn't getting all of that stuff for free, a real cringe OMG-don't-you-know-who-I-am moment..."
Mehreen A denies writing positive reviews in exchange for goods.
Producing a review post can take "up to eight hours" Mehreen A wrote, including photography and travel to and from a venue.
"I don't do eight hours of work for an eight piece selection box of macarons and marshmallows," she said.
"Writing is notoriously badly paid and photography suffers the same, but I value what I produce as worth more than that."
She added that her material is then free for the subjects of her reviews to use for their own marketing.
After buying a few samples herself, the blogger admitted to posting some unflattering images of them on Instagram "in anger" but has since deleted them.
"That was a silly thing to do, but I saw red," she said.
Social media consultant Shea Wong told the BBC: "If you are a professional writer you have to be clear in what you are getting and what you are giving," she said.
"If you are in a professional situation you have to behave professionally.
She said you need to be clear by for example, saying: "I would like to offer you a 350 word piece featuring four photos... it will take me x amount of time, I would like to be paid in kind / in cash'."
With new guidelines expected from the Advertising Standards Authority (ASA) we could soon be seeing "ad" or "sponsored" appear more often on blogs and vlogs, which may go some way to preventing future rows about biscuits.