Nursing: Why the UK has so many foreign nurses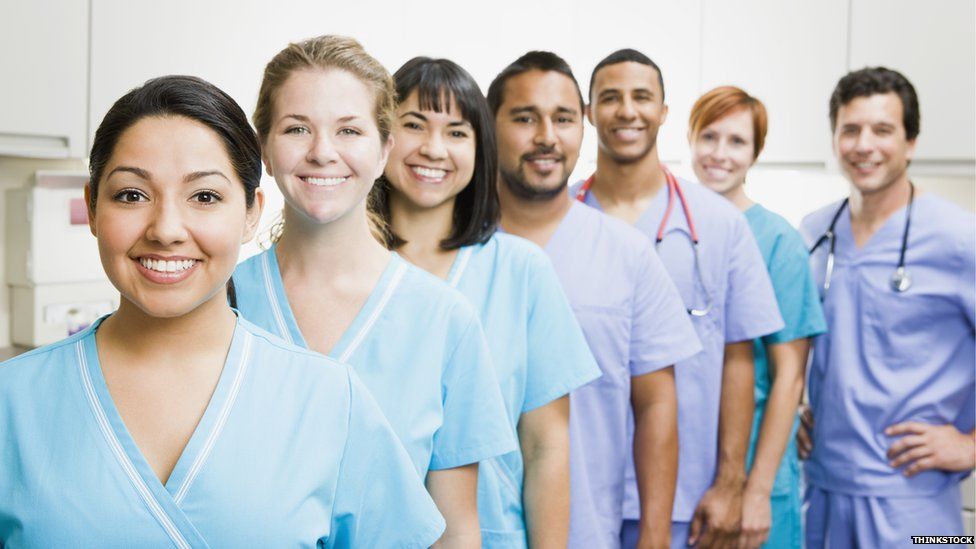 Around 7,500 nurses from countries such as Spain, Romania and Italy registered to work in the UK last year.
But many of you have contacted Newsbeat to tell us you've always wanted to be a nurse but haven't been able to get on training courses.
One argument is that not enough people from the UK have the right qualifications.
Dani Ella Wynn, 18, from Wigan, applied to six universities to study nursing and midwifery and was rejected from every one.
"I'm only 18," she said. "I've always wanted to be a nurse and tried to get as much experience as I could. I've taken four A-levels but still no place."
Health Education England said national training places have increased.
The number of nurses coming to the UK from other parts of the EU has risen steadily during the past six years, making up the vast majority of new overseas recruits.
The number of foreign nurses coming from outside Europe has dropped.
The trend has been driven partly by the financial problems in countries like Spain and Portugal.
Jamie Spencer, 27, is a healthcare support worker.
"I've got an NVQ [level] 2 and [level] 3 in health and social care and I've had a number of work experience [placements] in a hospital," says Jamie.
"I do find it frustrating when foreign nurses come over and start nursing when there are people in the UK that want to do nursing but can't.
"It's because they [people from UK] don't get a chance to go to university and do the training.
"I've had a number of years working in a hospital and I know the clinical areas as well. It's unfair."
Nowadays, you need a degree to become a nurse but that means the door has been closed to many people like Jamie.
Another problem is that five years ago hospitals were saying that they needed fewer nurses to try to save money.
But then a series of high-profile cases of patient neglect highlighted problems in nursing, which led to the government increasing the number of nurses.
To fill the gap more foreign workers, especially from the EU, were employed.
Each foreign nurse costs around £3,000 to settle them in.
Amy Maud, 21, from Cumbria, is in her first year of training as a student nurse.
"I've had a few work experience placements and in my training so far I've come across a lot of foreign nurses.
"Although they intend to do their job, some can't speak fluent English, which is a massive issue for staff and patients when trying to communicate important information.
"I also think patients might feel they won't be understood when talking with foreign members of staff."