GCSE chemistry exam gives an answer in another question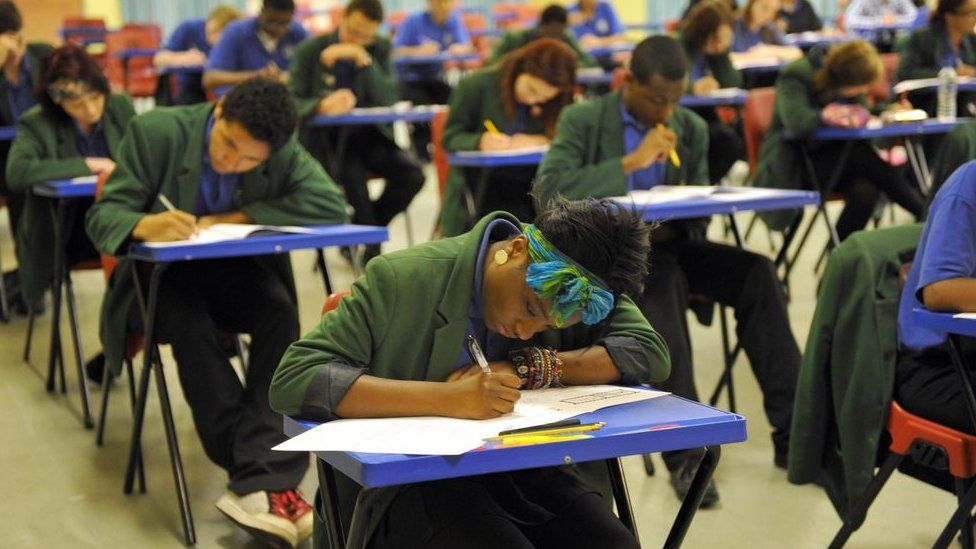 It's a nerve wracking time when it comes to doing GCSE exams. If only there was a little help for students during the exam...
Well imagine the surprise of some pupils who noticed a fill-in-the-blank answer was given in a question below.
Some students have been making fun of the exam on Twitter.
AQA, which set the paper, said it was aware of the mistake before the exam was sat.
In a statement, board representatives said: "This shouldn't have happened, and we're sorry it did."
The examination board added: "As part of our ongoing quality control checks we noticed that an answer to a one-mark question was given in a longer question later on in the paper.
"As the papers had already been sent out to schools and colleges, we took the view (and informed our regulator, Ofqual) that it was better to leave both questions in than cause unnecessary stress and confusion to students right at the start of the exam."
The board said it would make sure the mistake doesn't affect students' grades, but says schools can get in touch if they're worried.
Earlier this month a tricky GCSE maths question stumped thousands of students.
The equation in the Edexcel exam was on the probability of taking two orange sweets from a bag.
By the afternoon the topic was trending on Twitter and online petitions were set up calling for the board to lower the grade boundaries when marking.
Edexcel's owner Pearson said it aimed to "test the full range" of abilities. But it claimed students would be "treated fairly" when the papers were marked.