'Beach ready?' posters 'adapted' by campaigners
By Laura Wignall
Newsbeat reporter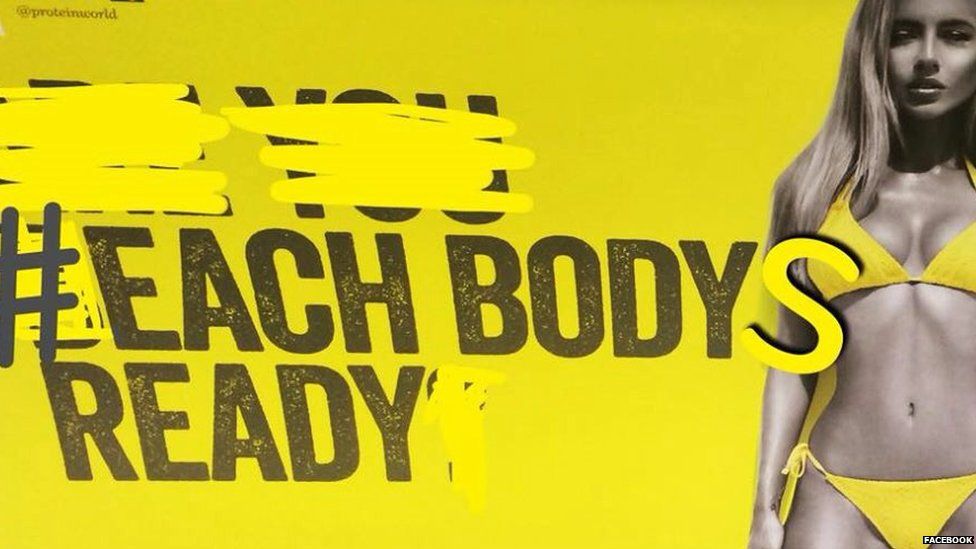 "Are you beach body ready?"
It's the question one company is using to sell its diet supplements, but not everyone's loving the message.
Campaigners including Blythe Pepino, singer in the band Vaults, have been busy "updating" the billboards.
"I was pretty unnerved by the posters," Blythe told Newsbeat.
"It's not uncommon to see ladies in lingerie but the commoditisation and sexualisation of 'the beach body' seems to have become a meme trending in our lives.
"It was too much for me to sit by and watch, so I decided to take action.
"At a party we came up with the plan to put different types of bodies in yellow bikinis and physically modify the adverts using removable tape, take some pictures and spread the word as a light hearted retort.
"This snowballed into the slogan #eachbodysready."
Protein World is the company behind the advertising campaign.
On 8 April, the Advertising Standards Agency investigated nine issues and the company was asked to change the wording of certain products and ingredients on their website.
A petition to remove the ads has now gained thousands of signatures online.
In a statement to Newsbeat, Protein World said: "It is a shame that in 2015 there are still a minority who aren't focusing on celebrating those who aspire to be healthier, fitter and stronger.
"Renee, our stunning model, falls well within what the British government deem to be a healthy weight based on the BMI (body mass index) system.
The diet supplement's ads are getting some support online.
Protein World says it has "no intention of removing the adverts because of a minority making a lot of noise" and the company's been tweeting back against the campaigners.