Google Image search for CEO has Barbie as first female result
By Amelia Butterly
Newsbeat reporter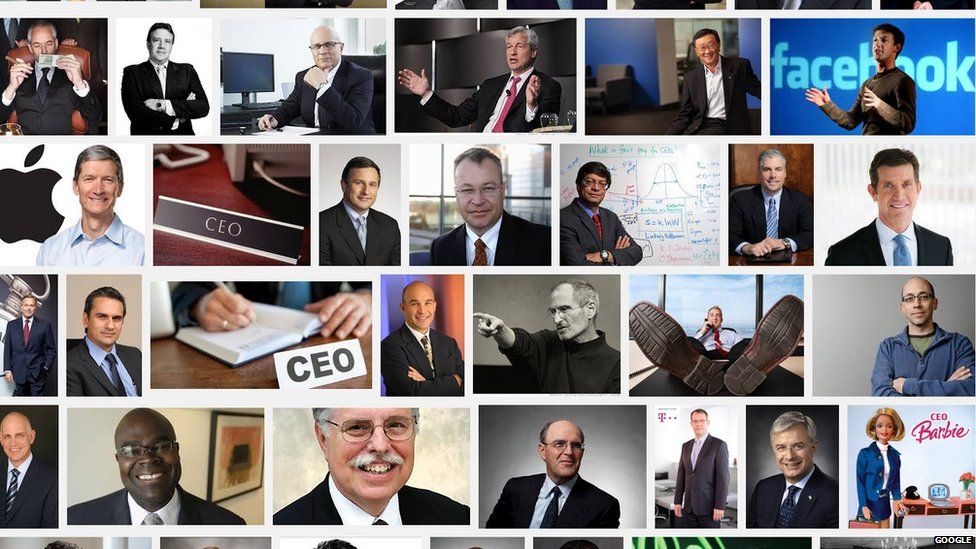 Search the term "CEO" in Google Images and the first picture of woman you get is a picture of Barbie in a suit.
This "gender bias" has become apparent after a paper was published showing that many image searches for specific occupations favour men or women.
The authors of the report say they have found "stereotype exaggeration and systematic underrepresentation of women in search results".
They have also identified the "sexy construction worker problem".
This is where female construction workers in their search results "tended to be sexualised caricatures of construction workers" who the researches said were "almost certainly not engaged in the profession they portrayed".
Although the paper focuses on gender representations, the same search also shows that most of the men, and Barbie, are white.
The image of Barbie that appears is actually one from spoof news site The Onion, which jokingly reports on Mattel being criticised for encouraging "young girls to set impractical career goals".
Other search engines, such as Bing, Yahoo and DuckDuckGo also return all-male results on the first page - as first uncovered by The Verge.
The BBC's own picture archive, which is used by journalists across the organisation, can show results in a variety of different orders.
With the search prioritising newest picture first, multiple images of the CEO of McDonald's Japan - Sarah Casanova - appear.
Obviously the priorities for this search a different, with recency being the focus, however in the first 20 pages of results, you also see PepsiCo CEO Indra Nooyi, CEO of the International Culinary Center, Dorothy Cann Hamilton and international leaders such as Angela Merkel.
The report's authors, Matthew Kay and Sean A Munson from the University of Washington and Cynthia Matusek from the University of Maryland Baltimore County, say that the minority gender for any given occupation, whether that is a man or a woman, are usually portrayed "less professionally" than the majority gender for that role.
They claim this fits with how people also perceive results to be better when they match a stereotype they already hold - for example men making for better construction workers.
Although fairer representation may improve the real-world balance of genders in different occupations, the report recommends "balance" when it comes to the algorithms search engines use.
The authors say results which support "socially desirable outcomes" may not accurately represent either the available images, or the "real-world" numbers of men and women in different careers.
Google has declined to comment, while Mattel has yet to respond to Newsbeat's request.