'Too hard to convict people of harming unborn babies'
By Kat Collins
Newsbeat reporter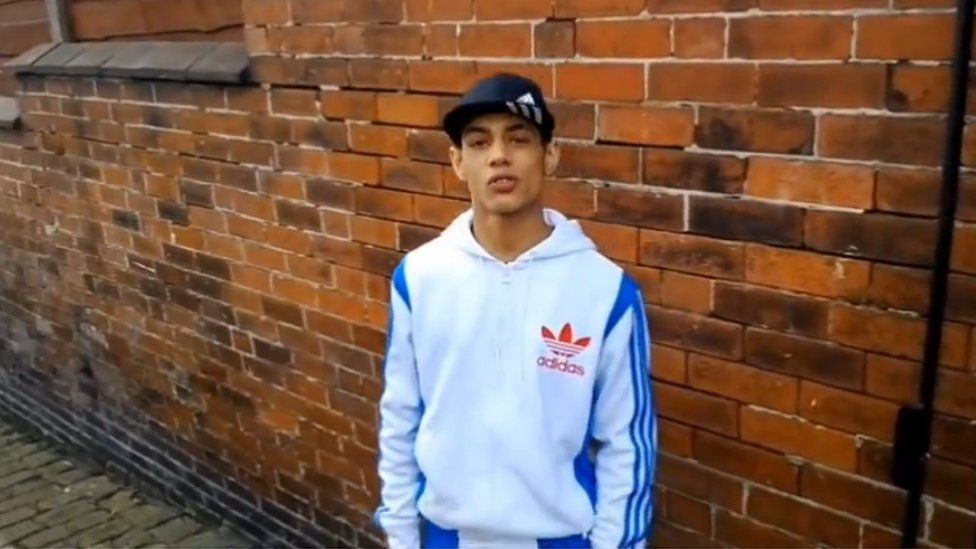 The lawyer for a teenager who repeatedly punched his pregnant girlfriend in the stomach has told Newsbeat it's too hard to convict people of harming unborn children.
Dusan Bako, 18, from Oldham, has been sentenced to four years and eight months in a young offenders institute after admitting GBH. He assaulted her last August.
The 16-year-old was seven months pregnant.
She lost her baby but a charge of child destruction was dropped.
Bako, who wants to be rapper, had become angry because her phone was switched off.
His defence lawyer, Alison Mafham, can't talk specifically about her client's case but told Newsbeat she believes there is a loophole in the law.
Why it's not murder to kill an unborn child
"Whatever moral standpoint you take, in the eyes of the law an unborn child is not a person, so you can't be charged with murdering an unborn child and you can't be charged with assaulting an unborn child," Alison explains.
A law of child destruction applies to the deaths of some unborn babies, though, and carries a life sentence. Legal abortion is an exception.
But only 16 people have been found guilty of child destruction in 11 years in England and Wales, despite Alison claiming to see more and more attacks on pregnant women.
"The prosecution has to prove not only have you killed a child, capable of being born alive, but you intended to kill it - so you wanted that unborn child dead - and that's quite a hard thing to prove," she says.
If an attacker's intention was to harm an unborn baby rather than kill it, or if they wanted to hurt or kill its mother, the law doesn't recognise any offence against the unborn child.
Prosecutors may find it easier to charge defendants with offences against the mother.
Alison, from Richard Silver solicitors, believes the law is outdated. It was set up in 1929 to deal with backstreet abortions.
But she thinks a new law could be brought in to convict people who "recklessly" kill an unborn baby, an offence similar to manslaughter.
"That would mean if you punch a pregnant woman in the stomach and the unborn child dies, there may still be an offence [against the unborn baby] even if you didn't mean to kill the child."
Additionally, the law of child destruction only applies when the baby could have survived outside the womb at that point. That's generally seen as 28 weeks into pregnancy.
Last year, 18-year-old Aston Robinson was cleared of child destruction after murdering his girlfriend, Kayleigh-Anne Palmer. She had been pregnant for 24 weeks.
In 2009, 24-year-old Richard Brown was jailed for causing the deaths of three passengers while drink and drug driving. 18-year-old Becky Lee was 14 weeks pregnant at the time but no charge was brought for child destruction.
WARNING: Lauren's story contains graphic and upsetting detail
Ten months ago, 26-year-old Lauren Oliver was stabbed five times in the stomach by her ex-boyfriend when she was eight months pregnant.
"I thought I was getting punched until I realised when I was laid on my back that I was actually getting stabbed and that's when the pain kicked in," she told Newsbeat.
"I thought I was going to die and I thought she was going to die. I just begged him to stop."
Twenty-eight-year-old Nicholas Leaning, from Scunthorpe, didn't want Lauren to have his child and attacked her on her doorstep wearing a cage fighter's mask.
When she arrived in hospital, doctors couldn't detect the baby's heartbeat but eventually found it and delivered Harper early, weighing 4lbs 1oz.
Because the baby was "breech" - upside down in the womb - the knife narrowly missed her.
Leaning is serving at least 10 years in prison for attempted child destruction and assault.
But Lauren worries about what she also sees as loopholes in the law.
She says: "If you lose your baby, you have to live with that every single day and every single year.
"It must be sickening to see them serve the time and then come out and live a normal life but you still don't have your baby. I honestly don't think it's right."
The Ministry of Justice has told Newsbeat the law is a matter for the next government to consider if it chooses to after May's election.