Malala Yousafzai gets her own asteroid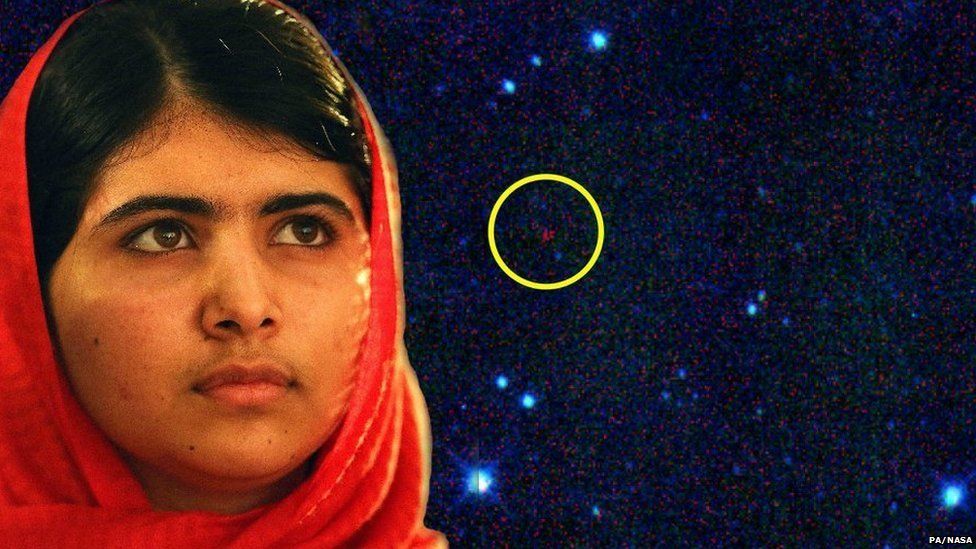 She's the teenage activist who campaigned for girls' education in Pakistan, and was shot by the Taliban.
She's also a Nobel Prize winner, and now Malala Yousafzai has had an asteroid named after her.
In terms of honours - it doesn't get much bigger than that - physically, at least: the rock is a full four kilometres wide.
Situated in the main asteroid belt between Mars and Jupiter, it orbits the sun every five-and-a-half years.
The unusual honour comes courtesy of NASA's Amy Mainzer, who discovered the rock, previously known as 316201, in 2010.
Under International Astronomical Union rules, Mainzer had the right to name the asteroid, and decided to honour 17-year-old Malala.
Writing on the Malala Fund Blog, Mainzer said she wanted the move to serve as an inspiration to young women.
"We desperately need the brainpower of all smart people to solve some of humanity's most difficult problems, and we can't afford to reject half the populations."
In October 2012 Malala was shot as she boarded a school bus in the Swat Valley, Pakistan. She had risen to prominence after appearing in a BBC documentary about life under the Pakistani Taliban who controlled the area, and were stifling women's rights and education.
After emergency medical treatment in the UK, she became a worldwide sensation, speaking in front of the UN and elsewhere about the right to education. She was co-awarded the Nobel Peace Prize for her efforts.
The asteroid is described as being "printer toner" black, and whilst Malala may never get to see it, it's rather nice to know it's up there.