Zayn Malik reveals 'I've let fans down' in interview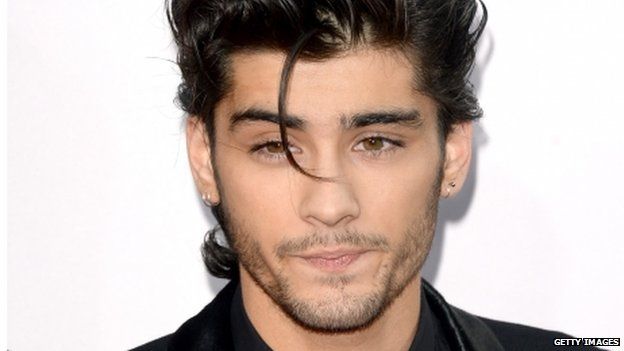 Zayn Malik has revealed that, in leaving One Direction, he has "let the fans down".
He announced he was the quitting the band on Wednesday. In an interview with The Sun he said: "I can't do this anymore."
And the star admitted his decision was "crazy and wild and a bit mad.
"But I've never felt more in control in my life. I feel like I'm doing what's right, right by myself and right by the boys."
Zayn gave his interview just hours after announcing he was leaving the world's biggest band.
He denied there were any rifts between the band members, saying those claims "couldn't be more wrong".
But he confessed he had wanted out of the band for some time.
He said: "You know, I did try to do something that I wasn't happy doing for a while, for the sake of maybe other people
"Basically, I'm only upset [because] I feel like I may have let them down."
"It's not that I've turned my back on them [the fans] or anything, it's just that I just can't do that anymore because it's not real to me."
He also dismissed rumours it was the beginning of the end for the band, who were put together on The X Factor in 2010.
And he refused to comment on speculation he could return in the future.
Zayn quit the globally-successful pop group a week after walking away from their world tour due to "stress".
It came after the singer was pictured with his arm around a blonde girl in Thailand, prompting speculation he had cheated on his fiancee, Little Mix singer Perrie Edwards.
Immediately after the announcement he flew back to the UK, and wrote on Twitter: "I'm 22 years old... I love a girl named Perrie Edwards. And there's a lot of jealous [people] in this world. I'm sorry for what it looks like."
Announcing he was leaving One Direction for good on Wednesday, Zayn said: "After five years, I feel like it is now the right time for me to leave the band."
Asked about his relationship by The Sun, Zayn said his two-year engagement had not been broken off.
He described Perrie as "a good girl" who was "supportive" of his decision.
Meanwhile, Zayn has reportedly visited a west London recording studio to work on solo material with Naughty Boy; who helped launch the careers of Emeli Sande and Sam Smith.