Why the 'tampon tax' is here to stay - for a while at least
By Amelia Butterly
Newsbeat reporter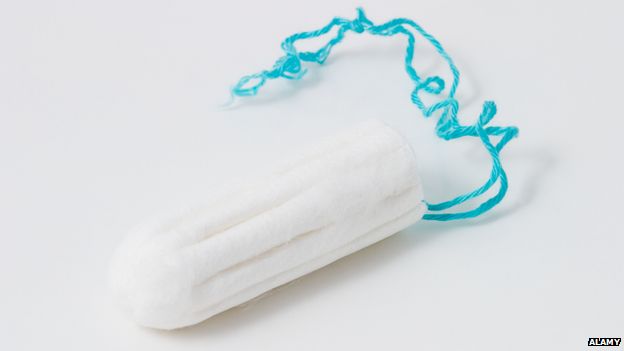 But, because of EU rules, it's unlikely that it will be successful.
Back in 2000, the VAT on tampons and sanitary towels was dropped from 17.5% to 5% after a campaign by Labour MP Dawn Primarolo.
HM Revenue and Customs (HMRC) categorises these products as "non-essential, luxury" items.
"Sanitary products control and manage menstruation," says petition organiser Laura Coryton.
"They are essential because without them, those who menstruate would have no way of pursuing a normal, flexible, public or private life and would be at risk of jeopardising their health."
In her campaign, Laura points to tax exempt products, which include "edible sugar flowers", "alcoholic jellies" and "exotic meats including crocodile and kangaroo".
She acknowledges the problems posed to her initiative by the EU legislation, but says "with the backing of Westminster, we hope to convince the European Parliament that this is an important issue worth revising".
A spokesman for HMRC says: "The application of VAT in the EU, including rates and flexibilities afforded to member states such as the UK, is governed by EU law.
"The UK applies a 5% reduced rate of VAT to the supply of sanitary products. This is the lowest rate possible under EU VAT law."
"This is a long-standing campaign. I have had a look at it in the past. It's quite difficult," he said.
"Some VAT things you can change. Other VAT things, if they're linked to other products, it's quite difficult to do it within the framework of European laws and I can't remember the answer.
"I think it's very difficult to do but I'll have to go away and have a look and come back to you."
Some students' unions are getting round the problem by selling sanitary products at cost in campus shops.
In the last couple of weeks, the University of Sussex Students' Union has re-priced its tampons and sanitary towels to £2.21 and £2.34 respectively.
Previously they retailed at £3.19, meaning a 31% and 27% reduction in price.
"Everyone [on campus] has been really grateful we're doing something about it," says Rianna Gargiulo, who is the welfare officer at the union.
"It's something that happens to you biologically, that you have no choice over and it's unfair that the government doesn't recognise it.
"If we went around bleeding everywhere, I don't think they'd be very happy about that."
She says the union has been talking about taking its price reduction one step further.
"There's been a demand for us to do a little bit more and we've said that hopefully in the future we'll be able to provide a service where, similar to what unions do for condoms, we could do for sanitary products, so people could get them for free."
Related Internet Links
The BBC is not responsible for the content of external sites.