Living with two penises is 'special and unique'
By Daniel Rosney
Newsbeat reporter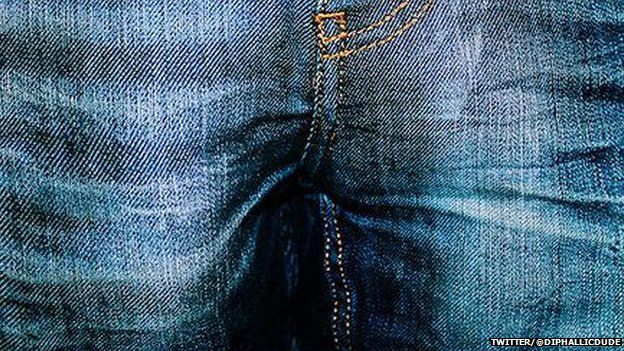 A man with two penises has been speaking to Newsbeat about living with the condition.
Known only as Triple D, the 25-year-old from the east coast of America claims to have had 1,000 sexual partners.
He suffers from diphallia which is a rare condition where a male is born with two penises.
According to a report by the BMJ - the global healthcare knowledge provider - one-in-five million males in the world are born this way.
WARNING: This article contains graphic content that some people may find offensive
"My life would never ever be the same again if I allowed my identity to be revealed," he tells Newsbeat. We agreed to keep his identity anonymous.
He says he doesn't want to become "a butt of a joke" and a "novelty".
"If I wasn't going to have sex with you then you wouldn't know I had two [penises]. It's rare that anyone does know."
Growing up Triple D says he was told he was "special and unique" by his parents.
He remembers them sitting him down and making it clear: "Don't play doctor with anyone else, don't take your pants off in front of other people."
He says he managed to keep his condition hidden from friends but when schoolmates found out in high school he went through a hard time.
"Initially I didn't want people in school to know because I didn't want to hurt anyone's feelings," he explains.
"I didn't want others guys to be jealous or feel bad that they didn't have two. It was never put into my head they might hate me because I had two or they might think I was weird.
"It didn't get out until a girl I'd been seeing had been interested in going all the way. I hadn't thought about it and I was trying to avoid it. It wasn't until then that I thought she might not be able to handle this - it might freak her."
Aged 16, he says he considered having one of his penises removed.
"Girls were starting to stare at my crotch a lot more - I denied it.
"I wish my parents would have made it clear to me that people make fun of things that they don't understand.
"I've always had these, this is my life. When I look down, what I see looks normal to me."
Questioned about why he's willing to talk about his two penises but not willing to reveal his identity he says: "Everywhere I would go, people would know who I was. They would have expectations."
Triple D has self-published a book called Double Header: My Life With Two Penises in which he gives a full account of coping with diphallia.
He claims to have had more than 1,000 sexual partners.
"I wanted to do whatever I wanted to do with whoever I wanted to do it with - whoever would do it with me.
"It was owning it, it was being me and accepting it and putting them to use. There were situations where people would freak out."
Triple D describes himself as "very much bisexual" and has been in polyamorous relationships - sexual or romantic relationships that are not exclusive to one person.
He says his longest relationship was with a couple.
Everyday things like buying underwear are an issue - so he tells Newsbeat he doesn't wear any.
Both penises are fully functioning. "I can urinate and ejaculate through both at the same time," he explains.
"Entering into the porn industry has crossed my mind. I knew people who worked in the sex industry and some of them knew what I had, some had heard what I had.
"Nobody had seen it. I remember thinking about it but I don't want to become a novelty. My dignity is priceless."
Newsbeat has seen photographs which support Triple D's claims but cannot independently verify his identity.