Instagram prepares UK users for adverts on feeds
By Jonathan Blake
Newsbeat technology reporter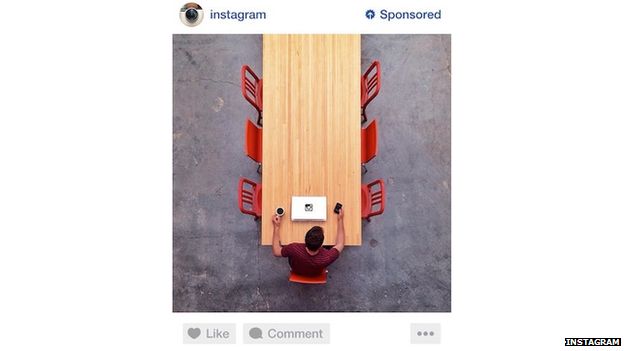 Tucked away between the cat pictures and cups of coffee, you might have noticed something new on Instagram.
We had been warned that adverts were coming, but the time has come to get used to them.
If you haven't already seen it, look out for a "sponsored" post, breaking the news gently.
Ads will be rolled out "slowly", the social network explains, starting with companies "already great" on Instagram.
After this taster, Instagram said genuine adverts would be "coming soon" to UK users.
"Our aim is to make any advertisements people feel as natural to Instagram as the photos and videos they enjoy from brands who are already using Instagram," said spokesman Will Guyatt.
"You can hide individual adverts and leave feedback by tapping the "..." button.
"We're relying on input from people on Instagram as well as advertisers to help us continually improve the Instagram experience."
Despite the test post receiving more than 18,000 likes, many users expressed their frustration online.
The bottom line is, Instagram needs to start making money.
The company was bought by Facebook in 2012 for $750m (£460m), despite not making a profit.
Earlier in 2014, Instagram introduced adverts to selected users in the US.
Related Internet Links
The BBC is not responsible for the content of external sites.