Seven shocking strips worn by sports teams
By Harry Low
Newsbeat reporter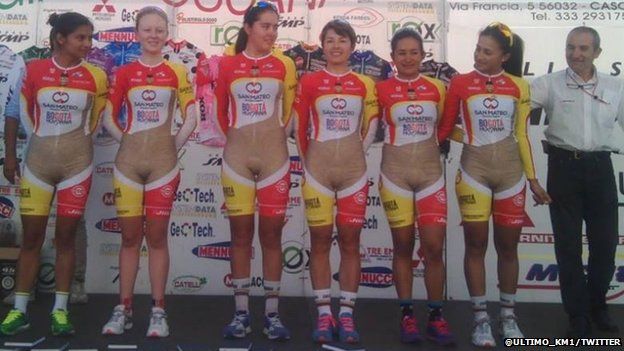 The Colombian cycling team have caused quite a stir with their latest strip.
The outfit is not quite what it seems at first glance.
The team modelled the kit, which is not actually see through, ahead of the annual Tour of Tuscany in Italy.
A great excuse for Newsbeat to look at some of the worst kits sported throughout the years.
Designers of Scotland's away kit did not receive overwhelming support after unveiling a pink and yellow striped number earlier this year. The kit made its debut against Nigeria in May but couldn't inspire the Scots to victory.
American golfer John Daly is famed for his colourful attire. We're not sure how well hot pink works on the golf course, though.
Jorge Campos, the Mexico number one, wore this garish number at the 1994 World Cup. Presumably, he was hoping to distract opposition strikers rather than make a fashion statement.
Continuing the theme of awful goalkeeping shirts, England's David Seaman wore this jersey as they crashed out of Euro 1996. As if losing to Germany wasn't punishment enough.
A horrid multicoloured, multi-shaped number here from the rugby sevens team. The less said, the better.
This beige number was made famous by the Kiwis during the 1980s. Contrary to what you might think, batsman John Wright is not using his bat as a weapon against the kit designer. Either way, we say it's just not cricket.
This fashion disaster from the early 1990s didn't stop striker Mark Robins celebrating a goal at Highbury. Their kit certainly didn't give fans much to cheer.