Marvel's new Captain America will be African-American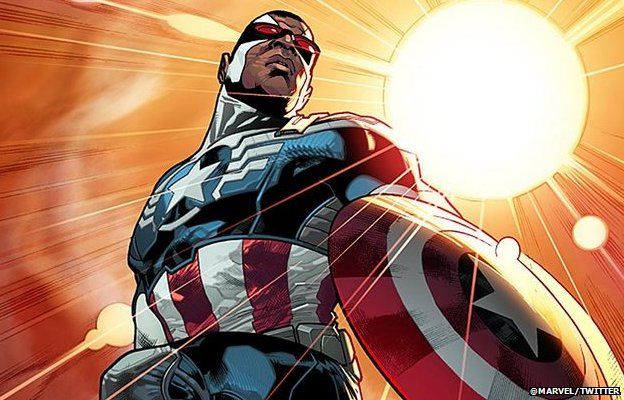 Marvel has announced that a new Captain America will be African-American.
In an online article the character Sam Wilson, also known as The Falcon, was named as the replacement for Steve Rogers.
The move follows what is described as "a dire encounter with the Iron Nail" which left Rogers unable to carry on.
The post reads: "Robbed of his superior strength and vitality, Steve Rogers must surrender his blues for a sturdy cane."
The change of character is only set to affect the Captain America comic book series.
Chris Evans, who has played him in The Avengers film, will also play the role in Avengers: Age of Ultron which is set for release in 2015.
Anthony Mackie played The Falcon, Sam Wilson, in Captain America: The Winter Soldier, but there are no plans for his character to become the Captain on the big screen.
Captain America writer Rick Remender wrote: "I think that different characters across the Marvel Universe are going to respond to Sam's appointment in different ways.
"But he's not a novice in his long history as the Falcon, he's earned a reputation for integrity and honesty and backbone that most of the super hero community have a respect for."
Captain America first appeared in Marvel Comics in 1941.
The news about Captain America comes a day after Marvel announced that Thor, the God of Thunder, would now be portrayed as a woman in that comic book series.
Talking about the alterations, Marvel comic editor Tom Brevoort said: "We're not anywhere near finished.
"Change is one of the watchwords of the Marvel Universe, so there are even more startling surprises to come."