Cocaine contaminates drinking water, report suggests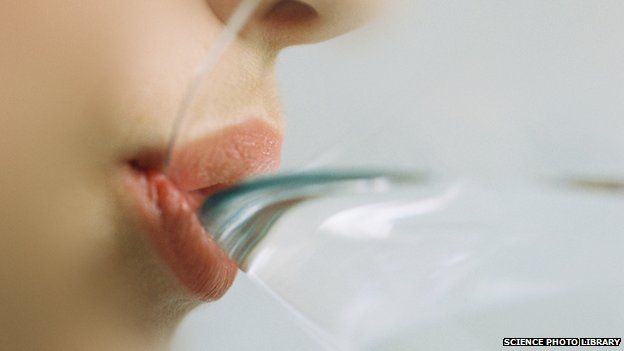 Cocaine use in the UK is so high traces of it have been found in drinking water, a report has suggested.
The Drinking Water Inspectorate found samples contained Benzoylecgonine, the form of the drug that appears once it has passed through the body.
It is the same substance that is found in positive urine-based cocaine tests.
Sue Penniston, from the Inspectorate, explained that the substance was "also found in a topical analgesic used for the relief of muscle pain".
She added: "Cocaine was not detected in drinking water. The levels found were not significant for public health and drinking water is safe."
Steve Rolles, from drug policy organisation Transform, told The Sunday Times the findings showed the scale of the use of the drug in the UK.
"We have the near highest level of cocaine use in western Europe," he said.
"It has also been getting cheaper and cheaper at the same time as its use has been going up."
Almost 2% of people between 16 and 59 used the drug in the last year and about three in 100 people aged 16 to 24 said they took cocaine.
According to the government statistics, in 2012-13 cocaine was the only drug to show an increase in use among adults between 16 and 59.
The research into drinking water in England and Wales was carried out by scientists to look into the dangers of drug compounds to the supply.
As well as Benzoylecgonine, traces of the pain-killer Ibuprofen and Carbamazepine, a drug for treating epilepsy, were found.
Tests also showed significantly higher quantities of caffeine.
A recent report from Public Health England found that the quantities of cocaine found were around a quarter of what appeared before treatment and, at a dose of four nanograms per litre, was unlikely to be a danger.
"Intakes of the compounds detected in drinking water are many orders of magnitude lower than levels of therapeutic doses," the report said.
"Estimated exposures for most of the detected compounds are at least thousands of times below doses seen to produce adverse effects in animals and hundreds of thousands below human therapeutic doses.
"Thus, the detected pharmaceuticals are unlikely to present a risk to health."
Related Internet Links
The BBC is not responsible for the content of external sites.