Radio 1 DJ Pete Tong awarded MBE by Duke of Cambridge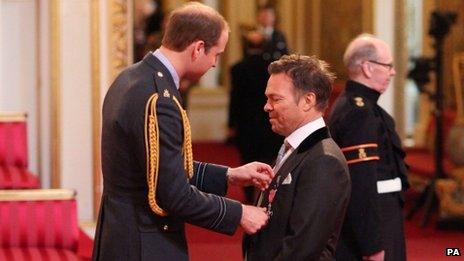 Radio 1 DJ Pete Tong has been awarded an MBE by the Duke of Cambridge.
The dance music presenter, who hosts the 9-11pm Friday night slot on the station, was honoured for his career in broadcasting and music.
It has seen him progress from running a mobile disco to launching a record label and becoming a producer.
His name has passed into the English language as rhyming slang for "wrong" with the phrase "it's all gone Pete Tong" used to describe a mishap.
After receiving the award from Prince William during an investiture ceremony at Buckingham Palace, Tong said a fanzine first used the phrase "as an affectionate slap around the head".
But he says "it just stuck, turned into an amazing legacy" and insists he's never had a problem with the phrase.
It was also used as the name of a comedy film in 2004 where a DJ realises he is becoming deaf.
"The movie obviously was great fun," he said. "Why run away from something that's so catchy? I use it as my brand when I do parties around the world."
Speaking about his career, the DJ said: "I've been standing here for a few hours waiting to do this and still have to pinch myself. I've spent my career doing something I love, playing records.
"There are so many worthy people here today, I feel quite humbled by all the servicemen, policemen and the charity workers and people like that.
"So I count myself lucky to be recognised in this way."
The 53-year-old, who relocated to Los Angeles from the UK last year, has also worked as a producer, supervised the soundtracks for films such as The Beach and 24 Hour Party People and has released a lengthy list of compilations and mix albums.
His musical interest began when he was younger as a drummer.
He progressed to DJ'ing and after leaving school operated a mobile disco and then set up his own club night in London as well as booking bands.
Tong's specialist knowledge helped him to become a music writer on Blues And Soul magazine but after four years he went to work for music label London Records as an A&R man.
After hosting a soul show on a Kent radio station, he went on to land a show on Capital Radio and three years later in 1991 he was given a dance show on Radio 1, the Essential Selection.
That helped him to become one of the most in-demand club DJs in the UK and around the world.
He was resident at Pacha in Ibiza between 2003 to 2007.
While his radio career was building, Tong continued his record company interests with his own label FFRR, releasing music by dance acts such as Utah Saints as well as groups including Fine Young Cannibals and Hothouse Flowers.