Celebrities back Ibiza Says No oil drilling campaign
By Sinead Garvan
Newsbeat music reporter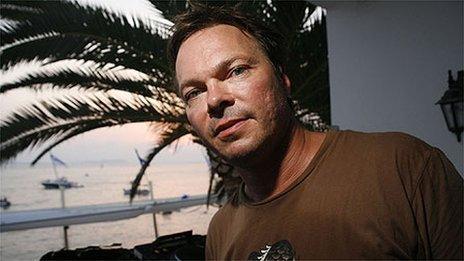 Kate Moss, Sienna Miller and Pete Tong are among the celebrities backing a campaign to stop oil exploration off the coast of Ibiza.
A British company called Cairn Energy has been given the green light to look for oil, 15 miles from the party island.
More than 30,000 petitions have now been submitted to Spain's government urging it to rethink the decision.
The main concern is the effect on tourism.
The island is famous for its nightclubs and dance culture but it is also a Unesco World Heritage Site.
This means the United Nations regards it as a place of special cultural or physical significance.
There are fears if this goes ahead then there could be oil spills and locals are worried about the effect on tourism and sea life.
"The drilling they want to do is 1,200 metres deep," Sandra Benbeniste, the co-ordinator of the Ibiza Preservation Fund, told Newsbeat.
"This is the same depth that they did in the Gulf of Mexico when they had this big accident.
She did not think the technology was efficient or modern enough for drilling to be carried out at that depth without huge risks.
"The possibility of that would ruin not only the environment but also the reputation Ibiza has in terms of tourism," she continued.
"99% of the people live from tourism. There's no way we can risk what we have."
It is not just the locals who are concerned about these plans.
Kate Moss, Sienna Miller and BBC Radio 1 DJ Pete Tong have all backed the campaign by posting selfies with a banner reading #Ibizasaysno.
The plans are in a very early stage and the oil company, Cairn Energy, told Newsbeat what it wants to do is nothing new.
"There have been 267 offshore wells drilled in Spain between 1960 and 2010," it said in a statement.
"Cairn is working in Spain at the invitation of the Spanish government, where the company is at the very early stages of assessing whether to explore for hydrocarbons.
"Wherever we work we consult with the local communities to understand any concerns they have and ensure we develop plans which, where possible, avoid these."