Beyonce: Stop buying into the myth of gender equality
By Amelia Butterly
Newsbeat reporter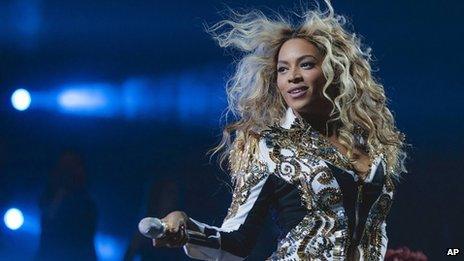 Beyonce has said gender equality is a myth and people need to "demand" women get the same opportunities as men.
The US singer made the comments as part of The Shriver Report, which is examining the rates of financial insecurity among American women.
"We need to stop buying into the myth about gender equality. It isn't a reality yet," wrote Beyonce.
"Equality will be achieved when men and women are granted equal pay and equal respect."
The musician also commented on the inequality in pay between men and women in America.
"Today, women make up half of the US workforce, but the average working woman earns only 77 percent of what the average working man makes.
"But unless women and men both say this is unacceptable, things will not change."
According to figures from women's charity The Fawcett Society, there is still a significant pay gap between men and women in the UK.
In November they held Equal Pay Day, saying that "women were working for free" from then until the end of December because of a 15% pay gap.
In an interview with Vogue last May, Beyonce refused to identify herself as a feminist saying "that word can be very extreme".
In this latest blog she stresses the importance of encouraging children to view men and women as equal.
"We have to teach our boys the rules of equality and respect, so that as they grow up, gender equality becomes a natural way of life," she said.
"We have to teach our girls that they can reach as high as humanly possible."
Other female artists have spoken out recently about gender inequality.
"I feel like I'm one of the biggest feminists in the world because I tell women to not be scared of anything," she said.
Lily Allen, who has just returned to the music industry after starting a family, said her single Hard Out Here addressed how "difficult" it was for girls growing up.
"It [the song] is to do with a lot of stuff that's being talked about in the press, the sexualisation of children and the objectification of women in general," she said.
Related Internet Links
The BBC is not responsible for the content of external sites.