Your view: David Cameron says UK is land of opportunity
By Jim Taylor
Newsbeat politics reporter in Manchester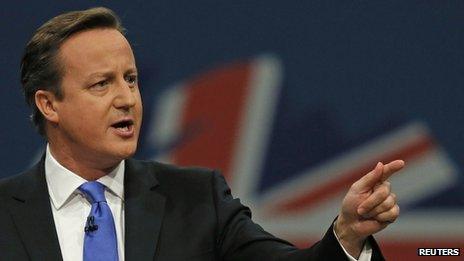 David Cameron has given a speech which closed the Conservative party conference in Manchester.
The prime minister didn't announce any major new policies, but set out the approach which he hopes will win his party the next election in 2015.
The theme of the speech was Land of Opportunity.
He urged people to trust the Tories to continue the economic recovery, even though Labour argues his decisions have held the UK back and punished the poor.
Newsbeat put some of the key phrases to voters in Manchester.
David Cameron used the phrase "land of opportunity" 13 times and said no-one should be held back by their background, as long as they put the effort in.
He also spoke about a new proposal to cut benefits to anyone under the age of 25 not in work, education or training.
Supermarket worker Rosie Grimes, 21, isn't convinced.
"He doesn't genuinely believe that," she said. "I don't think he cares about us.
"If they [ministers] came to live our lives like we do, work on minimum wage and try to pay for food, bills, clothes, enjoy themselves and have a life - they wouldn't be able to do it.
"We're still struggling as much as we were when they first got in.
"If he comes back in in 2015, I'm emigrating."
The prime minister's speech was very pro-business and he said there was nothing wrong with making money.
"Profits, tax cuts and enterprise are not dirty, elitist words," he said.
Nineteen-year-old Hannah Ede, who's training as a personal assistant, agrees and is optimistic about the future.
"So many people start from nothing and now have everything," she said.
"The business I work for, you start at entry level and you can make it up to management. I want to run my own business and I know I can."
Hospital worker Simon Conlin, 32, says there's no way the UK could be considered a land of opportunity at the moment.
"Profit isn't a bad thing unless you're rubbing it in someone's face," he said.
"If you're making something and you can afford to, you should be able to give back to where you've come from and share the wealth."