Chancellor sets out new round of spending cuts
By Jim Reed
Newsbeat politics reporter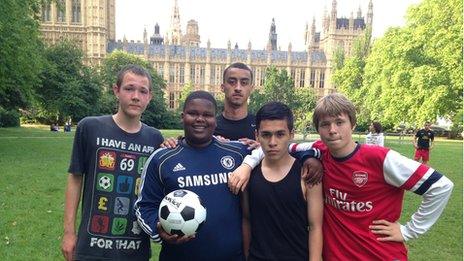 On a patch of grass next to the Houses of Parliament, Edson Rabole is shouting instructions to a team of under-18s.
The 21-year-old football coach spends five days a week training children and teenagers on similar pitches.
The youth club he joined when he was just 11 and now works for, St Andrews in Westminster, is thought to be the oldest in the world.
But it's faced a £86,000 drop in funding over the last two years as its grant from the local council has dried up.
"If the club had to close, some of the younger lads could be hanging round on street corners and causing trouble," said Edson.
"It's really important to this area. If we don't have the youth club it's just going to be trouble for them."
St Andrews is one of thousands of local projects that have seen their funding either fall or in some cases stop completely since the economic crisis.
The Chancellor has set out how he plans to save another £11.5 billion in the year starting from April 2015.
George Osborne has announced:
A crackdown on jobseekers who can't speak English and those who sign on as soon as they are out of work
An end to automatic pay rises for workers in the civil service, schools, hospitals, prisons and the police but not the armed forces
A 10% cut to local council budgets
Civilian defence jobs to be cut but no reduction in armed forces personnel
Cuts of between 6 and 10% to areas of government including the Home Office, Foreign Office, business and culture departments
Protection for counter-terrorism and elite sport
Government, or 'public' money, is used to pay for a huge number of services from leisure centres to the police, hospitals and new roads.
But since the downturn the government has been spending more than it collects in taxes, meaning it has to borrow billions to make up the difference.
The country cannot go on running a large deficit so the choice is either to cut spending or raise taxes.
Large tax rises would be unpopular especially at a time when the economy is still fragile.
Many businesses say it's important the government sticks to its plans to reduce borrowing by cutting spending instead.
The coalition government's cuts have already led to a fall in the number of police officers, a smaller armed forces and changes to welfare payments like housing and child benefit.
But the downturn was worse than expected meaning extra cuts or tax rises are needed.
Schools, the NHS and international aid are all ring-fenced, so protected from any cuts.
Whichever party is in power after the next election, more action will almost certainly be needed to balance the books.