Authorities say 'horrific' web pages are on the rise
By Declan Harvey
Newsbeat reporter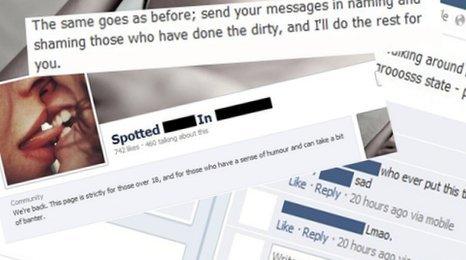 Authorities say they have noticed a rise in the number of "horrific" web pages being set up to bully teenagers in towns across the UK.
The pages have been called "slut shaming pages" and claim to expose the sexual behaviour of young people.
Charities say they've been contacted by "hysterical" teenagers, upset at the rumours being anonymously posted about them.
West Midlands Police say they've been alerted "several" times recently.
Facebook said they were closing the pages as quickly as they could.
'Never see England again'
Newsbeat's spoken to one 22-year-old victim. We've changed her name to Nadia. She said three pages dedicated to her ruined her life.
"They managed to get photos off my actual Facebook page," she said.
"It was saying I was a slag, a tart, a home wrecker. Really degrading stuff, to be quite honest.
"I still don't know why anyone would ever do it.
"I was a very confident person before and now I've become a very quiet, timid person."
Nadia says she was approached at work: "There was a boy who had the webpage up and pointed at me and said, 'Oh, so if I gave you twenty quid what would you do for me?'
"My main worry was that my dad saw it. The moment he would have seen my name and the word 'sex' by it, I knew that it would have caused uproar.
"He would fly me to the rest of the family in [the middle east]. It would be all over. I would never see England again and that would be how I'd live."
Nadia said she considered taking her own life.
She says the first page remained online for almost four months before Facebook finally removed it. Two copycat pages were then opened. They were online for six months, she says.
Facebook said "nothing is more important to us than the safety of the people using our service". They say they use "industry leading tools" to remove the sites as quickly as possible.
There are no specific figures showing the increase, but police, charities and Facebook have all noticed a recent rise.
He said: "We've seen the numbers increase over the last couple of months. We've had girls and boys from [the age of] twelve upwards who've been victims. It's destroyed lives."
The Cybersmile Foundation will hold the UK's first Stop Cyberbullying Day on Friday 21 July.
Scott thinks "there needs to be more talking about how we can start repairing some of these lives and preventing more lives being ruined because the damage being done is very serious".
Contact the Cybersmile Foundation Helpline on 0845 688 7277
Related Internet Links
The BBC is not responsible for the content of external sites.