Metallica receive Revolver lifetime achievement award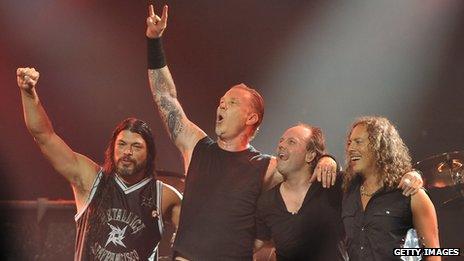 Metallica have received a lifetime achievement award at Revolver Magazine's Golden Gods awards in LA.
Described as an anti-MTV event by Josh Bernstein, the managing director of Revolver, they are a celebration of metal, punk and rock music.
Metallica also performed live during the show.
Josh Bernstein said: "The last time they did a show in an intimate venue this size was 1983, that's really exciting."
Previous winners include Motorhead, Ozzy Osbourne and Motley Crue.
Metallica were formed in 1981 in Los Angeles and have made nine studio albums, earning a place in the so-called 'big four' group of thrash bands which also includes Anthrax, Megadeth and Slayer.
Jack Black and Kyle Gass from Tenacious D accepted the comeback of the year award and best live band went to the Grammy award-winning metal band, Slipknot.
Deftones took away album of the year with their album Koi No Yokan.
Black Sabbath's Tony Iommi was honored with the riff lord award.
Corey Taylor won best vocalist and best live band with Slipknot.
Scott Ian from Anthrax, who was nominated for best live band, said: "I have been at this awards show before as a presenter. I am just happy we get to play.
"Normally at these things we don't get to sit down and just hang out. You are generally backstage working the whole time. But to play, I am totally down for that."
At the awards there are also a host of other categories including most metal athlete.
Nominations for that prize included Rally Cross driver Tanner Foust and skateboarder Geoff Rowley with the award going to WWE wrestler Triple H.
The Revolver Golden Gods winners were as follows:
Best Guitarist: John 5 (Rob Zombie & solo)
Best drummer: Arejay Hale (Halestorm)
Best bassist: Lemmy Kilmister (Motorhead)
Best vocalist: Corey Taylor (Stone Sour & Slipknot)
Most metal athlete: Triple H (WWE wrestling)
Comeback of the year: Tenacious D
Song of the year: Black Veil Brides, In The End
Album of the year: Deftones, Koi No Yokan
Related Internet Links
The BBC is not responsible for the content of external sites.