Calls for diabulimia to be recognised, say medics
By Rick Kelsey
Newsbeat reporter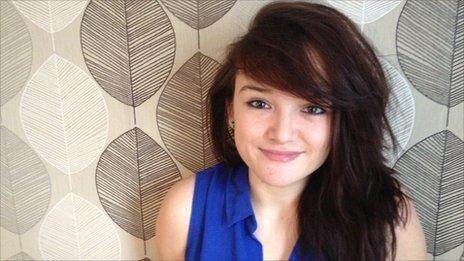 Insulin omission is a growing problem in young women, the latest NHS figures suggest.
The NHS National Diabetes Audit says a high proportion of women aged between 15 and 30 are skipping insulin injections to lose weight.
Now a charity wants diabulimia, as it is known, officially recognised as a mental health condition.
Diabulimia is when diabetics deliberately restrict their insulin for weight loss.
Leading doctors and psychiatrists say diabulimia is most common with young women who have type 1 diabetes .
Type 1 diabetes is when the body doesn't make its own insulin and is unable to control how much sugar there is in the blood.
The NHS National Diabetic Information Service says although taking less insulin will mean less food is used by your body the side effects can be deadly.
Figures show, in the 12 months up to last March, more than 8,000 people were admitted to hospital in England and Wales, with symptoms of not taking enough insulin.
Doctors can't say if all the numbers were down to people wanting to lose weight but they see a pattern among young women.
Dr Bob Young is the clinical lead of the NHS national diabetes information service.
"Between 1 April 2010 and 31 March 2011, 8,472 people included in the NDA [national diabetes audit] were admitted to hospital in the UK for diabetic ketoacidosis.
"The data shows it was most common with young females in deprived areas."
Diabetic ketoacidosis happens when someone is not taking enough insulin.
It has serious side effects from eye sight loss to kidney damage and if left untreated can even kill.
"The fact that the most common [people] were young females supports the fact that they want to lose weight," he says.
The charity, DWED (Diabetics with Eating Disorders) has been campaigning to have omitting insulin to lose weight officially recognised as a mental illness.
They hope by doing that there will be more specific help made available for sufferers.
Tayler Hackett, who's 22 and from Liverpool, was diagnosed with type 1 diabetes she was 12.
"Basically even though I knew not taking my insulin could lead to blindness it's one of the biggest risks, I didn't care because I was consumed with it and I wanted to be thin."
Over eight years she says she was moved from hospital to hospital, before being sectioned with her mental health problems, at one stage she also lost almost all of the sight in her left eye.
Now she's been healthy for 18 months and wants diabulimia recognised so that fellow sufferers can be helped.
Related Internet Links
The BBC is not responsible for the content of external sites.