Amanda Todd: Memorial for teenage cyberbullying victim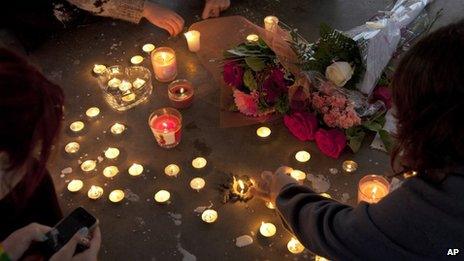 Tributes from across the world are being paid to a 15-year-old girl from Canada who killed herself after being bullied online.
A memorial for Amanda Todd was held overnight in British Columbia, five days after she was found dead.
It comes five weeks after she uploaded a video to YouTube describing years of bullying that she said drove her to drugs and alcohol.
In the nine-minute video she told her story with a set of handwritten notes.
The recording, described as "haunting", showed the cheerleader going into detail about what happened to her.
She said she was persuaded to expose her breasts to a stranger who then sent the photo to her school friends.
These images were then used to torment her on social media, she revealed.
The teenager changed schools repeatedly but that did not stop the bullying and she was physically attacked by classmates.
After a violent encounter with another girl, she wrote that she went home and drank bleach.
"It killed me inside and I thought I actually was going to die," she said.
The last card on the YouTube video reads: "I have nobody. I need someone. My name is Amanda Todd."
In a comment below the video, Amanda wrote that she was not posting the video for attention.
She wanted "to be an inspiration and to show that I can be strong".
"Everyone's future will be bright one day, you just gotta pull through. I'm still here, aren't I?"
Christy Clark, premier in British Columbia, posted a video on YouTube offering her condolences and condemning bullying.
Amanda Todd's family has not yet spoken publicly about what has happened.
Danny Grey said: "Sad news indeed, but why didn't she just close her account down, report it or tell the relevant people?"
Josher Oner said: "I don't understand why this one suicide has gone worldwide, suicides among bullied teenagers happen every day. Is it because she's a pretty young girl?"
Sophie Walls said: "I watched the video and wish I could have done more. Sadly I don't think this is an isolated case and I fear there are more young girls like this."
Adam Page added: "Guess the government will use this to try and force through more laws allowing them to spy on electronic communications, when really they should be trying to educate young people what to do in these kind of situations."
@McClairee wrote: "The best tribute to her we can do is talking to the kid that sits on their own etc. Reach out to people who are being bullied."
@WiiGoCrazy wrote: "What about all the folk who commit suicide for being ugly, poor, good at something? Where's their message? #stopbullying."
Tips to help avoid cyberbullying can also be found here.