Half of the X Factor finalists were invited to audition
By Jasmine Coleman
Newsbeat reporter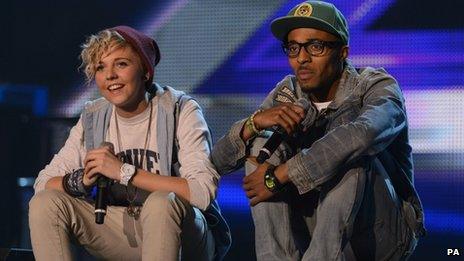 Half of this year's 12 X Factor finalists were approached to audition for the show.
A spokesperson for the show told Newsbeat all acts had to go through the same process but that some had been asked by researchers to take part.
Producers insist that the judges did not know whether acts had been invited to audition when they were deciding whether to send them through.
A new rule was introduced this year to help producers find new talent.
It was included in the terms and conditions for this year's online application.
It stated: "Please note that outside of this application process, acts may also be invited to audition for the programme by researchers acting on behalf of the producer.
"Such acts will be required to go through the audition process and normal programme rules will apply."
Former Pussycat Doll, Nicole Scherzinger, who is mentoring the boys, said the move to invite contestants was now necessary due to the number of talent shows on TV, including The Voice.
"I think it's great that they've done that," she said. "It opens up the pool for wider talent."
The show has confirmed that producers who held earlier auditions did know whether the acts had been scouted and insisted that they weren't guaranteed to get through.
Finalists are now free to reveal if and how they had been scouted.
Jahmene Douglas and the duo MK1 are the only acts to admit to Newsbeat that they were approached.
"For me it was being found on YouTube but we all went through the same process," said 21-year-old Jahmene.
Simeon and Charlie in MK1 were made aware of the auditions by their record company.
This year, contestants are allowed to have had management deals as well.
Kye Sones and Melanie Masson in Gary Barlow's over-28s category are among those who have had professional music careers.
Tulisa Contostavlos, who is in charge of the girls, said she didn't think inviting contestants made any difference to the show.
"It's just simply notifying people about the auditions."
And mum-of-one Jade Ellis, 25, added: "Personally, speaking as someone who did just go to an open audition I don't think it's any less fair.
"I'm quite happy to go into the competition with people who were scouted.
"At the end of the day the rules have changed so we've got to get on with that."
Related Internet Links
The BBC is not responsible for the content of external sites.