Premier League shuts down 30,000 illegal streams
By Jim Taylor
Newsbeat reporter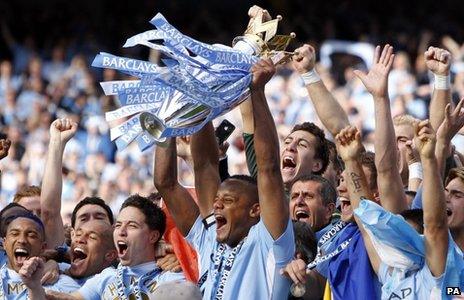 The Premier League says it shut down more than 30,000 illegal internet streams of its television matches last season.
That works out at more than 75 for every game in the 2011/12 campaign.
The league says streaming is a significant problem and will look to use new anti-piracy laws against the worst offenders.
A report in June warned illegal live TV websites had seen a "rapid rise" over the last year.
Most live sport websites link to pirate streams hosted elsewhere.
They are mainly taken from foreign broadcasters' TV coverage.
Dan Johnson, a spokesman for the Premier League, said: "If you want top quality football, it costs money.
"It's not just about star performers getting paid well, it's about investment in facilities and youth development."
The enforcement company NetResult is able to automatically detect the 'fingerprint' of online videos, flagging up those which appear to be the same as live matches.
A spokesperson for the firm says they aim to shut down 80% of Premier League streams during a match.
He said: "It is a case of 'whack-a-mole'. One disappears and another one comes back online.
"I'm sure people who've tried to view Premier League content have found that it's not the best experience.
"Streams can lag, they can be shut down, you have to find another one."
Adam, an Arsenal fan from East Sussex, said he streamed matches only when there was no way of watching them legally.
The 21-year-old says he'd be willing to pay to watch Arsenal games online, and doesn't agree with the rule that Saturday 3pm kick-off matches can't be broadcast.
"Clearly there's a lot of money in football," he said. "There aren't players out on the streets busking. Everyone is still getting paid.
"I haven't seen any proper evidence that showing three o'clock games on TV would do that much damage."
A law has been passed meaning illegal downloaders could be sent warning letters and even have their broadband cut off.
Ofcom says it's not yet clear how that applies to streaming, and that no letters will be sent out until 2014.
Earlier this week Anton Vickerman from Gateshead was jailed for running Surfthechannel.com, a site which linked to pirated material.
Newsbeat contacted the manager of one sports streaming site, based in the UK.
He defended his site in an email comparing it to a search engine.
He wrote: "If a person walked up to me in the street and asked directions to Barclays Bank and then went there and robbed it, would that make me a co-conspirator in a bank robbery?
"In reality the person who is doing the streaming is the person who authorities should be chasing."
Related Internet Links
The BBC is not responsible for the content of external sites.