Most young people 'don't trust' politicians or parties
By Dave Howard
Newsbeat politics reporter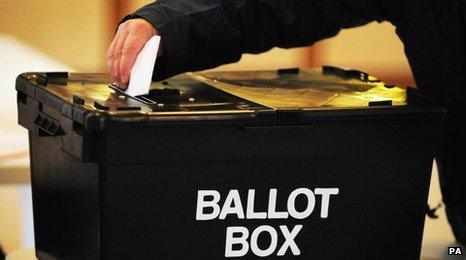 Almost two thirds of young people have little or no trust in politicians, new research suggests.
Three quarters of those surveyed also said political parties didn't keep promises once they were elected.
A group of Radio 1 and 1Xtra listeners will spend this week putting a range of concerns to MPs for Newsbeat.
Nicola Mackenzie, from Glasgow is one of them. "I want to know why they think they should be trusted," she says.
"After the expenses scandal, why weren't there harsher consequences for the people involved?
"If I did that at my work I'd be sacked. I'd never work again. I'd probably go to jail."
Researchers surveyed more than 1,000 18-year-olds and found most (63%) were interested in politics.
However, the same number also said they were turned off specifically by the behaviour of politicians and political parties.
Michael Rogers, 19, from Portsmouth is another Radio 1 listener quizzing MPs this week.
He says: "I didn't vote in the local elections (earlier this year).
"I just felt it would have been voting for the party that I hated the least, rather than the one I wanted to have power the most."
Almost two thirds of those surveyed (64%) said political parties weren't interested in things that mattered to young people.
The study, from Nottingham Trent University, is aimed at understanding why fewer than half of 18 to 24-year-olds voted in the 2010 general election.
One of the researchers, Professor Matt Henn, said the evidence pointed to young people feeling "disheartened and frustrated" by politicians.
His colleague Nick Foard added that politicians must now do more to show young people that they have "a sincere and transparent concern to listen to their voices".
Research found there was a sharp drop in 18 to 24-year-old voter turnout at the 2001 General Election.
It has been low ever since and spiked only slightly at the most recent election in 2010, even though it was a very close contest.
It's all led to growing concern within government circles that young people are increasingly removing themselves from formal politics.
Korang Abdulla, 22, from southwest London is also on the Radio 1 listener panel set to ask MPs questions.
"Politicians are mostly Oxbridge-educated middle class men," he said.
"They don't care about young people apart from at election time. Otherwise they're just not part of my world."
UK General Election turnout 1987 - 2010
Tweet us your thoughts on why 18 to 24-year-olds do or don't vote @BBCNewsbeat