The Vaccines reveal new songs from their second album
By Jasmine Coleman
Newsbeat reporter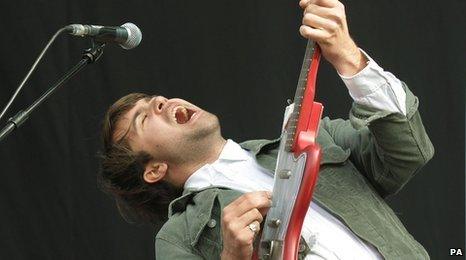 The Vaccines say they have already finished writing half of their second album and have named three new tracks.
Speaking to Radio 1 DJ Zane Lowe, singer Justin Young admitted he was originally worried that the band would not have enough songs for the next record.
But instead he has "too many".
Their forthcoming UK shows will feature new songs called Teenage Icon, No Hope and Bad Mood, Young told Zane Lowe.
"They are all done and they're going to be on the record because we all love them," he said.
"I was really worried going into the second record that it would be a case of not having enough songs but the thing that's keeping me awake at night is having too many songs, which is no bad thing."
The London band will be finishing the album in the summer after performing at a string of live dates including the Coachella Festival in California and one in Brazil.
The Vaccines have covered R. Stevie Moore's Why Should I Love You? for Record Store Day on 17 April.
The track was Zane Lowe's Hottest Record on Wednesday night (4 April).
Justin said they were introduced to the song by The Strokes' Albert Hammond Jr.
"It's such an undiscovered pop gem," he said.
"I couldn't believe that it wasn't in everyone's record collection.
"We all felt - rather arrogantly - that maybe if we played it more people would hear what a great song it is."
Hear more from Zane Lowe's interview with Justin Young from The Vaccines on Monday evening (9 April) on Radio 1.
Related Internet Links
The BBC is not responsible for the content of external sites.