Adele's 'phenomenal' year after 20 million album sales
Interview by Greg Cochrane
Newsbeat music reporter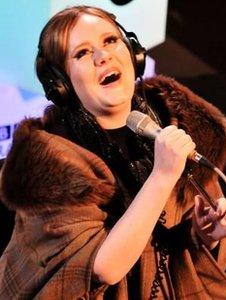 What a year it has been for 23-year-old Adele. Her album 21 is the biggest-selling album in the world in 2011.
Her two albums combined have sold more than 20 million copies globally with 21 shifting 16 million copies in the last 11 months.
She's smashed records. She's has the highest-selling album of the century and has become the first living artist in nearly 50 years to have two top five singles and albums in the charts at the same time.
Ben Beardsworth, managing director at Adele's record label XL, guides us through the ups and ups of her year.
Adele's second album 21 is released (January)
"There was a lot of planning in 2010 and a lot of hard work from Adele. We had finished 21 in time for it to be released for Christmas, but it would have been a rush.
"The feeling was that we'd be sacrificing being able to put together a worldwide campaign for the short-term gains of getting some quick Christmas sales in the UK.
"We knew she was very special and we knew she had not only a great record but great instinct on how to present her music to the world. The album hasn't left the UK top 10 since it came out."
She performs Someone Like You at the Brit Awards (February)
"In the UK it was the big crossover moment.
"It also gave her her first ever number one single, which was nice. We were confident the Brits performance would work because it was exactly the same as she did on Later...With Jools Holland to launch the campaign.
"Facebook was a massive part of proliferating that bit of content around the world.
"That was the thing which started to make us think it would have some kind of scale. It was internet-fuelled word of mouth."
21 tops the US Billboard chart (March)
"The soulful nature of her music seems to connect well with a US audience. They recognise that talent in that area.
"She broke through with her first album but she didn't have any big airplay hits.
"It was only when Rolling In The Deep became a big airplay record that things went into the stratosphere."
Sales of the album begin to break records (April)
"The whole thing is based on an impossible to analyse combination of timing, her personality, the record she's made, the real raw basic connection she has with emotion and what's going to work with culture at that moment.
"Her record succeeded as a bit of a reaction against a wave of music that was dominating the charts, which was a more pop throwaway R&B genre.
"She came through and people took it to their hearts as real music."
Laryngitis calls a halt to her US tour (May)
"It was disappointing because you could see that she didn't want to let any of her fans down who'd bought tickets to the shows.
"She was already of a scale well beyond the size of venue she was playing.
"It's a shame that those people missed the opportunity to see her playing in those sized venues at that point.
"But hopefully she'll be able to more than make up for that when she's back on the road again."
The MTV Video Music Awards in Los Angeles (August)
"That was a very big US moment in the same way the Brits were a very big UK moment.
"It was also the beginning of people hearing Someone Like You.
"It's as simple as people just connecting hugely with the lyrics and performance of it.
"It's a magic connection, but it's not complicated."
Adele cancels all remaining commitments for 2011 but 21 continues to break records (September, October and November)
"It's been the ultimate. To be able to reach a big audience and not compromise what you're doing.
"It's great to have one foot in each camp. You can reach a mainstream audience but still be perceived as credible.
"We hadn't anticipated this degree of commercial success. It's turned out to be a complete phenomenon. No-one can predict things on that scale."
"She's going to be very cautious not to try to milk it too much and overexpose it to the point of ruining it for people.
"There won't be a huge amount of exposure and promotional appearances from now onwards.
"Whether or not the album has got its own natural momentum to keep on selling, I'm sure it probably has.
"I'm sure she'll be recognised by the Grammys and at the Brits next February."
Related Internet Links
The BBC is not responsible for the content of external sites.