Mark Ronson dedicates London concert to Amy Winehouse
By Greg Cochrane
Newsbeat music reporter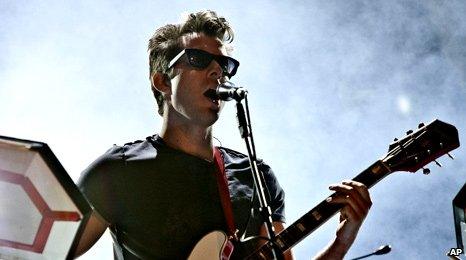 Mark Ronson has paid tribute to Amy Winehouse by performing a number of her songs at a show in London.
In his first gig since her death, the British producer and songwriter invited members of her backing band on stage for a version of Valerie.
Mark Ronson played the same song at the start of the gig with The Zutons' singer Dave McCabe, who originally wrote the song, on vocals.
"She made brilliant music, more than I'll make in my entire life," he said.
He co-produced Winehouse's successful second album Back To Black and peppered the gig with references to the singer.
He played her hit single Rehab during a short DJ set in the middle of the concert and was joined by Charlie Waller, lead singer of The Rumblestrips, for a full band cover of Back To Black.
"It's really lovely getting to play some music here for you tonight," Mark Ronson, 35, said from the stage. "That's what makes everything better.
"I went to her service yesterday (Tuesday) and there was a rabbi that spoke and he said that somebody's life is measured in deeds and not years and that's the best thing I heard yesterday.
"The genius in that woman and what she shared with us is pretty special.
"I'm not going to get all morbid on you. It's just nice to be playing music to people who like good music. She is my sister, wherever she is."
The concert was held as part of the Greenwich Summer Sessions festival.
Fans who made it to the gig said Mark Ronson had got the tone just right.
"I thought he was quite respectful of her and her family," said Sasha Waxman from Lincolnshire. "It was quite emotional."
Neely Hannah from Skegness added: "The mood was sombre to start but he did well with it. When her former band members came on, that was really nice. It wasn't upsetting, it was quite uplifting."
Mark Ronson attended Amy Winehouse's funeral on Tuesday in north London with her family and close friends.
Police will have to wait up to four weeks for the results of toxicology tests to find out her cause of death.
The singer had recently cancelled all European tour dates after a concert in Serbia where she was booed off stage.