Charlie Simpson dismisses Busted as he readies solo LP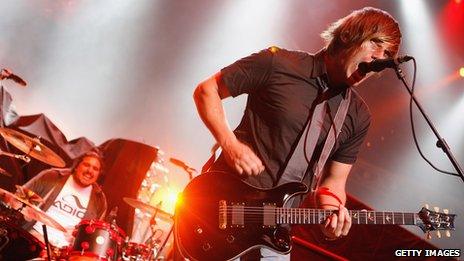 Charlie Simpson has dismissed his Busted past as "irrelevant" as he prepares to release his debut solo album, Young Pilgrim.
The 26-year-old left the boy band in 2005, prompting a split, and joined another act, Fightstar.
"For me Busted is a lifetime ago, it has no relevance to my life right now," he told Newsbeat.
"Not in a million years would we reform. I don't see the point in talking about it."
He said he did intend for Fightstar to regroup "at some point".
Simpson explained his new record had a "70s Americana" style and that he had enjoyed the change from being in bands.
"This was always going to be something that I did on my own," he said.
"I think my new album is a true representation of me as an artist on my own. I created this from the ground up myself.
"With Fightstar I could record it all myself but you're not going to be in a one-man rock band, it doesn't really work," he added.
"I'm really proud of it, I spent about six months writing it and about three months recording it.
"In the back of my mind I always thought I was going to make a solo record."
He also told Newsbeat he had formed his own offshoot label to release the record.
"It's all on our own terms," he said. "I'm just so sold by the independent route now, so many people are starting to do it and yield great results.
"I own the rights to the record which is pretty precious."
The singer has also announced a series of UK dates:
Central Station, Wrexham - 8 August
Cabaret Voltaire, Edinburgh - 9
Bristol University Anson Rooms, Bristol - 19 October
Slade Rooms, Wolverhampton - 20
Manchester Academy 2, Manchester - 26
O2 Academy Islington, London - 27
Young Pilgrim is released in the UK on 15 August.