Nintendo responds to 3DS health concerns
By Ben Mundy
Newsbeat reporter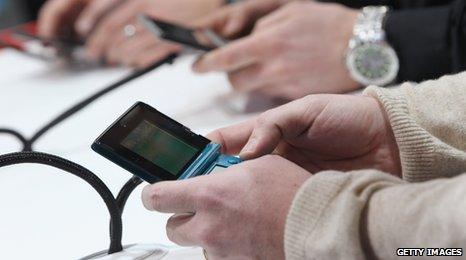 Nintendo has told Newsbeat it has received "very few negative comments" about its new 3DS.
It comes after Radio 1 listeners said the console had left them feeling sick, suffering briefly with blurred vision and dizzy spells.
Last month, many queued overnight for the world's first handheld 3D console.
More than 1,000 stores opened at midnight, whilst Plan B played a private gig at the official launch party in London.
The makers say they have had fewer queries about this console than during past hardware launches.
The console looks similar to a regular DS, but complaints from users are all to do with the LCD screen.
There are two screens layered on top of one another.
By directing these separate images to each eye, the feeling of three-dimensional depth is created without the need for 3D glasses.
Nina Panting from Aylesbury contacted Newsbeat to say she used the console last week.
"Me and my friend were out shopping and we were asked to try the 3DS out," she said.
"They had loads of consoles in this shop, with all different games to try. We used some of them and the functions for about 10 minutes or so."
After she left the store, she says she began to feel ill.
"By the end of it, it was making me feel quite queasy and strange," she said.
"My eyes were slightly blurry. It was a very strange feeling.
"I'm not sure I could play on it for any longer than 10 minutes to be honest," she added.
Nintendo says its 3D depth slider allows users to adjust the 3D effect so everyone can still enjoy the product.
Richard Deas from Aberdeen also got in touch.
"When I have the 3D switched all the way up, it really screws my eyes," he said.
"I can watch 3D TV without a problem, so I just put the slider to half way to resolve the problem on the console," he added.
HMV says it has no record of customers returning the consoles for this specific reason, while Game says fewer than five people have asked for a refund because it makes them feel ill.
Nintendo says any discomfort will be minor and advises regular breaks during playing time.
It is sticking to previous advice too, that under-sevens shouldn't play the 3DS.
Nintendo adds that anyone suffering problems can contact the customer support team.
Related Internet Links
The BBC is not responsible for the content of external sites.