Five tricks to make you buy more booze
By Jim Reed
Newsbeat reporter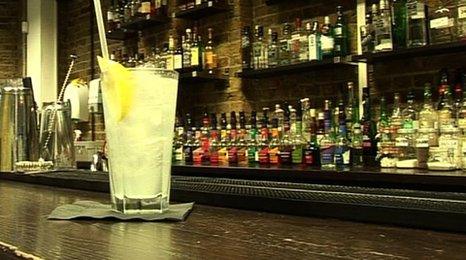 At the last count, people in the UK were buying £37bn worth of alcohol each year.
The typical 20-year-old drinks nine pints of beer or five glasses of wine a week.
That means bars and drink companies are prepared to fight hard and sometimes dirty to get that cash.
Newsbeat spoke to insiders to see what the top five drinks industry tricks are.
The bar itself is the front line in the battle for your cash.
People in the drinks industry talk about a "three second rule" - the amount of time you get to make a decision after staff ask for your order.
"Most punters just focus on the products right in front of them," one former manager told Newsbeat.
Drink companies are prepared to offer bars big discounts to get their brands in that position.
For alcopops it means the top row of the fridge, for spirits hanging right behind the bar and for beer the most eye-catching beer pumps possible.
Some beer dispensers are not even connected but are just adverts for the brand.
And noticed those frosted "extra cold" pumps covered in condensation? They're the latest marketing gimmick.
2. Pump up the music (and the heating)
The louder the better for bars.
Think of that when you can't hear yourself on a Friday night.
"The last thing bars want is customers sat behind a table chatting quietly," said former manager Rich.
Clubs want people on the dance floor but they don't want them to stay on the dance floor all night.
DJs told us they are often asked to drop in a couple of dodgy tunes to push people to the bar.
Then there is the heating.
We spoke to staff who are regularly told to turn it up, even in the summer, to get packed bars drinking.
Beers, wine and alcopops can all be bought, usually more cheaply, from the local off-licence.
That's one reason why the market for cocktails is booming.
Many bars offer the real thing.
Some though are more than happy to repackage a £3 rum-and-coke as a £8 Cuba Libre.
Another barman told us about a special Lychee Martini, sold as a cocktail but really containing no alcohol whatsoever.
"Look for simple things like a clean glass," said Amit Sood who trains cocktail makers.
"Are the drinks made using fresh fruit? Does the bar tender look technically confident? All those are signs that you are getting value for money."
The best staff will be skilled in upselling.
Ask for a vodka and you will be offered a double - ask for a glass of wine and you will be offered a large glass.
Then of course there's how the staff look.
"I've worked in bars which just refused to hire unattractive staff," 24-year-old David told Newsbeat.
"And whatever you think, those bars had the highest turnover."
Most staff are honest but we heard the odd scare story.
"The biggest thing is Christmas parties," said one ex-manager.
"Firms put £1,000 behind the bar and it would all be spent by the barmen.
"They would put everything through the till and drink it themselves after closing time."
5. Advertising everywhere
Eight out of 10 drinkers walk through the door of a pub without knowing what they want, one former marketing exec said.
"If you can put a brand name in their head they are very likely to remember it when they get to the bar."
Drinks companies will often offer bar staff incentives if they agree to put up promotional material.
"We used to have marketing guys coming in and handing us free festival tickets," one ex-manager said.
"Or they would give us crates of free beer just to stick up some posters."
___________________________________________________________
Have your say on this story on Newsbeat's Facebook page.
Here are a few of the comments so far:
"So not true. Yes your fly by night clubs and bars but not the great British boozer!" - Tina Moran
"I used to feed my customers a free Sunday bar buffet of salty roast spuds, nuts, sausage rolls and sausages - they loved it - kept them drinking longer and more." - Rebecca Elliott
"Beware of any bar with a fan heater in it. They dry the air and more to the point, your throat, making you buy more drinks." - Richard Bloor
"It's business!!" - Tim Colledge
"Nobody GETS you drinking more, if you didn't want to drink more you wouldn't." - Adam Wood
Related Internet Links
The BBC is not responsible for the content of external sites.