MySpace troubles: Music stars and fans give their views
By Greg Cochrane
Newsbeat music reporter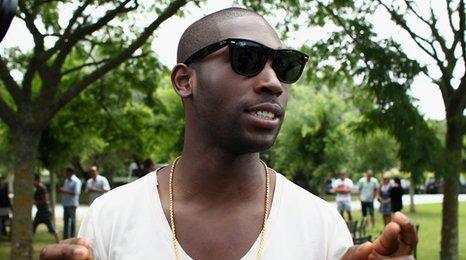 As MySpace lays off almost half of its workforce, Newsbeat asked fans and artists if they still use the social networking site.
MySpace was bought by media mogul Rupert Murdoch for $580m (£372m) in 2005 but has struggled to make money, while rival sites like Facebook have thrived.
Newsbeat spoke to Tinie Tempah, The Wombats, and some music fans, to see if they're surprised by the layoffs, and if they think the site has had its day.
"To be fair, I feel like my demographic show me a lot more interest via Twitter and Facebook.
"I like to concentrate on where they are. I'm a very keen user of YouTube too. I like to do a lot of video blogging.
"I go wherever my fans go and I hope they do the same for me. Everyone seems to be using Facebook and Twitter at the moment so that's where I'm at."
Murph, Tord and Dan from The Wombats
"It was definitely something that was instrumental in the beginning [of the band].
"We used to have shifts where we'd go on there and check-up on it and write back to people. It definitely helped and worked.
"But now, I don't know. We still use it but you can tell the big difference between that and Facebook for example. You post one thing on Facebook and you get hundreds of comments.
"It seems like MySpace just isn't cool anymore. Maybe people still use it for listening."
"I haven't heard of MySpace for a while.
"I used to log on to it but that was years ago. For new music - I just hear about it through my friends.
"MySpace is maybe for the younger people but not for me."
"I don't really use it any more. I stick to Facebook and things like that.
"It was quite popular a few years ago but for my age group I don't really know anyone who goes on MySpace anymore.
"I get my music from friends, my boyfriend. Just people who are around me."
"There are bigger companies now like Facebook and Twitter - they've taken over.
"There's always going to be a bigger company that's going to be developed.
"I know a lot of unsigned artists put their music on MySpace."
"Not really, I ain't surprised at the layoffs.
"They're losing customers now to new competitors like Facebook and Twitter. MySpace is really for music, for people to connect with music and get together with people.
"It's not as popular as it used to be, I don't even remember when I last logged in."
"I haven't used MySpace since I was about 15.
"When I went to university Facebook was the new thing which everyone used. I don't really need two social network things.
"My MySpace account is like a time capsule, I haven't used it for years.
"MySpace were forerunners of something which Facebook just did better than them."
"Yeah I'm surprised at the layoffs because they just did a refresh on their design a little while ago.
"Generally I get my music from Amazon, most of it from their store.
"I still use MySpace to check out new bands quite regularly. That's where I start."
Related Internet Links
The BBC is not responsible for the content of external sites.