Introducing…The Vaccines
By Greg Cochrane
Newsbeat music reporter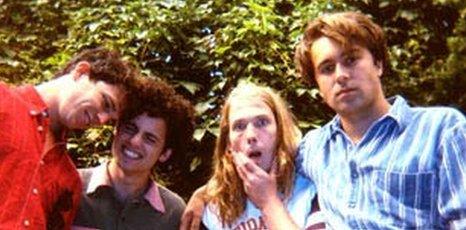 The Vaccines are trying to keep their heads level.
Two months ago they were just another east London garage-rock band honing their craft in a rehearsal studio.
Now, due to the hype-machine's habit of fast-tracking, they've already bagged an appearance on Later…with Jools Holland and been awarded the prized 'opening slot' on the annual NME Awards tour.
Pretty impressive considering the fuzz-rock four-piece haven't even released their debut single yet.
"We've been going since June I guess full-time," says lead singer Justin Young, speaking from their tour van halfway through their first ever UK tour.
"We all met because we were all doing music before playing in different outfits.
"A friend actually started The Vaccines and then he quit, so it's a happy accident the four of us are in a band together."
Some might say, a very "happy accident" considering the high-hopes the band seem to be creating.
The quartet (Anri Hjorvar - bass, Freddie Cowan - guitar, Pete Robertson - drums) have only played 15 gigs but have already been heralded as the band to breath life back into British guitar music.
Indeed, their arrival, apparently from nowhere, seemed all the more attractive since no-one could find any information about them at all online. No MySpace, no facebook, no Last FM - at that point.
"Basically, we put a song up and it might have looked like a PR stunt but we genuinely didn't expect anyone to care so we didn't have anything in place to deal with the fact some people liked it," says Young.
"I think some people thought we were trying to be secretive with the blog."
Either way, it's all out there now. Along with their online presence the band are already "three-quarters" of the way through completing their as yet untitled debut album set for release in March 2011.
"They're just fun pop songs played with passion," explains Young, when talking about debut split single Wreckin' Bar (Ra Ra Ra) and Blow It Up.
Notably, Wreckin' Bar checks in at a breezy brief one and a half minutes long.
"Sometimes it takes five minutes for what you want to say what you want to say and sometimes a minute and a half. We're not going to make it longer for the sake of it."
As for the immediate future they're just up for the "challenge" of rising to the task of matching all the 'talk'.
"It's a clichéd answer but we want to make an album we're proud or none of it will be worth it," says Young signing off.
"We want to be playing to rooms of people who really like it and feel excited by it."
Related Internet Links
The BBC is not responsible for the content of external sites.