Dave Grohl reveals UK Foo Fighters gigs and movie plans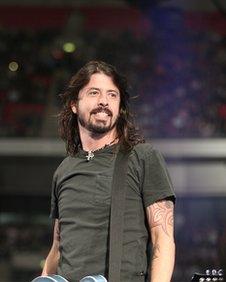 Dave Grohl has announced the return of Foo Fighters with two UK gigs and plans for a film.
He rang in to Zane Lowe's Radio 1 show to reveal they will play the Milton Keynes Bowl in Buckinghamshire on 2 and 3 July next year.
The band is halfway through recording its new album in Dave Grohl's garage.
He admits the pressure is on to finish it: "It's weird to put the biggest show we've pretty much ever played on sale when we're halfway done.
"But I promise you the record will be done. We're seven songs in with five or six more we're gonna do.
"The last month and a half we've been recording in my garage, totally old school analogue."
The band have had a break for a couple of years and Grohl has been working with Them Crooked Vultures but he says it's good to be back with the Foos.
He said: "The last two and a half years has been really fun but I miss it, I miss being in the Foo Fighters."
But he admits he thought his booking agent was "insane" when he suggested playing a stadium as their first concert.
"But then we thought why not? I know the record and I can't wait til every one else hears it. Foo Fighter fans are going to freak out because honestly it's awesome."
Biffy Clyro, Death Cab For Cutie and Jimmy Eat World will support the Foo Fighters.
Tickets go on sale on 5 November.
Grohl confirmed the album is going to be their heaviest yet: "Each song is full on, the whole record is full on.
"In the 14 songs there's not one acoustic guitar, there's not even one in the house."
The album is being produced by Butch Vig who produced Nirvana's Nevermind album.
Grohl also revealed the album has a guest appearance on bass from his former Nirvana band-mate Krist Novoselic: "This whole project has been really cool. I haven't made a record with Butch for 20 years."
Grohl also revealed the band have film plans: "We're making a movie about this whole experience too. We have a director.
"Basically 2011 you're not gonna be able to get us out of your hair, that's what we're planning. I'm excited."
Related Internet Links
The BBC is not responsible for the content of external sites.