Robyn: Triple album release is 'gamble'
By Caroline Hocking
Newsbeat reporter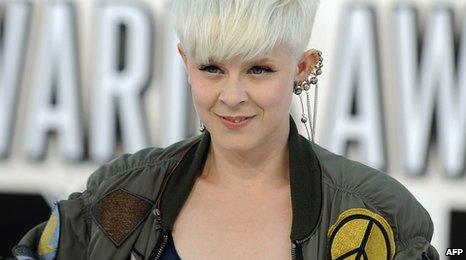 Swedish popstar Robyn has said her decision to release three albums in one year is a commercial "gamble".
Body Talk Part 1 was released in June and Part II is out this week - a third instalment is still to come.
"It was just something I felt like I needed to do. I just never thought about selling records or not, making this decision. I just did it for myself," she told Newsbeat.
"It's a way of, for me, to stay inspired and to be able to do the things I like to do."
It's been a busy year for the Scandinavian, who has just finished an American tour with Kelis.
"She's a really sweet person and I really respect her," she said.
"I think she has the same intentions as me of, like, making pop music in an unexpected way, but also doing something that feels really real."
Robyn says she has no new collaborations in the pipeline, and is busy touring and rehearsing with her band and making new music for the third album of the trilogy.
She admits she won't try to release three albums in a year again, but feels that it has been a "jump start" after releasing her last album in 2005.
Robyn admits that eight-track albums are more manageable for listeners and make it easier for her to feel inspired.
She said: "When you do 16 or 13 songs in one go, you kind of empty yourself, and it takes a while to fill back up and have new things to talk about, so I think it's good for everyone."
Related Internet Links
The BBC is not responsible for the content of external sites.