Wyclef Jean confirms Haiti presidency bid
By Greg McKenzie
Newsbeat reporter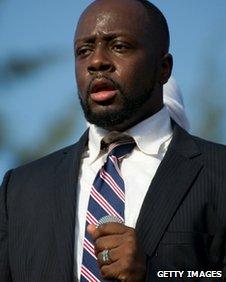 Wyclef Jean has confirmed to Newsbeat and BBC Radio 1Xtra that he is to stand in the race to become Haiti's next president.
He was greeted by supporters in the capital Port-au-Prince as he arrived to hand his candidate papers in before Saturday's deadline (7 August).
The hip hop star was born in Haiti then moved as a refugee to Brooklyn, New York when he was just 7-years-old.
The Grammy Award winner played a major role in securing aid to help the country's recovery after the earthquake in January which killed more than 200,000 people.
More than a million survivors are still homeless.
He said: "Really for me it came about after the earthquake.
"I've always been supportive of my country ever since I was a boy, even when I started with the Fugees which is short for Refugee.
"My first album was called Blunted on Reality where we spoke about the struggle of my country."
Wyclef says there are four main parts to his campaign - education, jobs, security and agriculture.
He has met many leaders, including Nelson Mandela, who he says have been a huge influence on his decision to run for president.
"I have also had a chance to work with (former US president) Bill Clinton. I respect the fact that Bill always comes back to Haiti and is still part of building the infrastructure and working towards getting people in Haiti jobs."
The singer hit back at critics who think celebrities should stay away from politics.
"For me Bob Marley was out of Jamaica and he spent his whole life singing about the change he wanted to see there," he said.
"I'm from Haiti and have spent my whole life singing about the change that I want to see happening and being that I'm still alive and still young I have to step up and take this position."
Wyclef is popular in Haiti for his music and for his work through his charity Yele Haiti, which raised millions after the earthquake. Earlier this week, he stepped down from the charity, which recently came under scrutiny over its finances.
He said: "I can't take another five years and see a population who can't read or write in my country, so unless we can get people jobs and educate them there's no way we're gonna ever help these people."
Whoever wins the 28 November election will be responsible for spending billions of pounds of aid money to rebuild the country.
Other candidates announced so far include former diplomat Garaudy Laguerre and Raymond Joseph, who is Haiti's current ambassador to the US and Wyclef's uncle.
The full list of official candidates will be published on 17 August.
Related Internet Links
The BBC is not responsible for the content of external sites.