Gorillaz perform one-off show in Syria
By Duncan Crawford
Newsbeat reporter in Damascus, Syria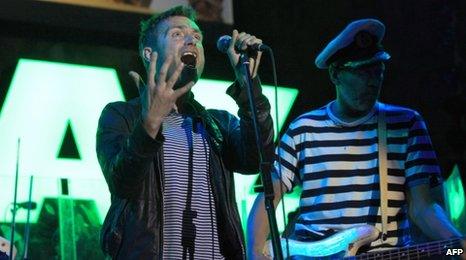 Gorillaz have become the first ever big British band to play in Damascus in Syria.
Damon Albarn, Bashy, Kano and former Clash members Mick Jones and Paul Simonon, were among those who performed a one-off show in the Syrian capital on Sunday.
Damon told Newsbeat it was something he'd wanted to do for some time: "I'm surprised that no one has ever come here before.
"For us it's just a wonderful experience."
De La Soul, the National Orchestra for Arabic Music, Bootie Brown and Bobby Womack also took part in the set, which featured Jamie Hewlett's video animation and art work.
The band and crew travelled overland from Beirut, Lebanon to play the gig at an 11th Century fortified palace, called the Citadel, in the old city of Damascus.
Damon told Newsbeat the concert wasn't a money spinner: "We're certainly not making any money. We're not looking at it in that context.
"By virtue of being the first big western act to arrive in Damascus I think hopefully that's the beginning of a dialogue, and that in itself is meaningful for Syria as a whole."
On the world stage Damascus has been increasingly isolated in recent years, having come under fire over claims it's backed rebels in Iraq, and over its role in Lebanon.
Syria is one of Israel's harshest opponents and supports a number of armed groups that carry out attacks against Israel.
The US extended sanctions against Syria in May 2010.
Kano told Newsbeat why he wanted to come: "Damon's that kind of person who'll talk you into doing anything but I wanted to come.
"It was important for me to come, because the song I'm on (White Flag), is the song with the Syrian National Orchestra. I needed to come."
All the artists who performed featured on Gorillaz's recent album Plastic Beach.
Damon told Newsbeat why he chose pollution as a theme: "I think the world is becoming like a plastic beach. It's not a prediction, it's something that exists now.
"We've got to accept that it's got to be cool to recycle."
The band is due to set off on a world tour later in the year.
Related Internet Links
The BBC is not responsible for the content of external sites.