Bankrupts 'banned' from opening basic bank accounts
By Debbie Randle
Newsbeat reporter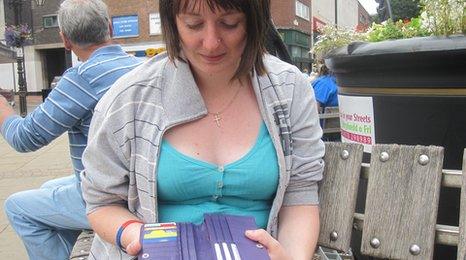 Banks are being accused of treating bankrupts unfairly by banning them from opening up basic bank accounts.
Citizens Advice says only two out of the 17 banks allow it in the first year - Barclays and The Co-operative Bank.
The number of people applying for bankruptcy has more than doubled over the past 10 years, many because of unplanned changes like losing their job or splitting up with their partner.
Twenty-five-year-old Zoe, from Wrexham in north Wales, declared herself bankrupt eight months ago.
Her boyfriend had left her and she found she couldn't afford to pay the mortgage and all the bills on her own.
She says it wasn't an easy decision and she knew it would be tough.
She said: "For the first 12 months there's so many things that you're not allowed to do.
"You've got no credit, you're not allowed to get any loans, you definitely can't get a mortgage and things like that. You're restricted.
"If you drive you're only allowed a car worth less than £2,000. But the main thing that I've had a problem with is that I can't get a bank account."
And that last one wasn't a problem Zoe was expecting.
She knew something was wrong when she went to draw money out but the machine swallowed her card.
"I went in to the bank and they said, 'We've frozen your account. We have sent you a letter', and they just said, 'We don't want your custom any more. We'd like you to empty your bank account'.
"They don't have people who are bankrupt in their bank."
Zoe left and went to one of the banks which is supposed to allow bankrupts to open accounts, Barclays.
"They said that there was no record of a bank account for me, so they checked and said I'd be declined the bank account but they wouldn't tell me why."
So Zoe's only option was to get her wages paid into her mum's bank account.
She said: "When I get paid I have to meet my mum in town, she has to draw all of my money out because it's her bank account and she needs it.
"I then have to use cash for the rest of the month which is quite a scary prospect, having cash all the time in your bag."
And it's not just her own cash that Zoe struggles to get hold of.
Having no bank account means you can't set up direct debits to pay for things like your gas bill or car insurance.
"It's really frustrating, it winds me up so much you wouldn't believe.
"I've always had a bank account since I was little, since I can remember and I never realised how important one was until I couldn't get one.
"It's all about independence, I don't have access to my own money. I work for it, I earn it but I can't actually get at it."
Since meeting Zoe, Newsbeat has spoken to Barclays Bank.
They maintain they do offer basic bank accounts to bankrupts. They gave Newsbeat this statement about Zoe.
It read: "...she was incorrectly rejected for a basic bank account due to administrative error.
"As soon as this matter was brought to our attention we immediately rectified this error and we are able to confirm that should Zoe wish to open a basic bank account with Barclays we would welcome her custom."
Newsbeat also spoke to some of the main banks.
Most insist they look at each application on an individual basis.
Related Internet Links
The BBC is not responsible for the content of external sites.