M.I.A video 'removed by YouTube'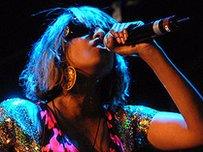 British rapper M.I.A's latest music video is being removed in some instances by YouTube, and labelled with an age-restriction in others.
The nine-minute long clip for new track Born Free depicts a number of gun carrying 'soldiers' executing redheaded people in graphic detail.
Whilst the site won't comment on individual videos, a spokesperson for YouTube said: "On YouTube the rules prohibit content like pornography or gratuitous violence.
"Our policy is to age-restrict content that has been flagged by the community and identified by our policy enforcement team as content that, while not violating our community guidelines, is not suitable for users under age 18."
However, YouTube say they judge the merits of a clip only once it has been reported by a user.
M.I.A's UK record label XL said they had no comment.
The video is directed by Romain Gavras who has previously worked on music videos for The Last Shadow Puppets and french dance duo Justice.
M.I.A enjoyed a worldwide hit with her track Paper Planes when it was re-released after featuring on the soundtrack of Slumdog Millionaire in 2008.
Speaking to Radio 1's Zane Lowe about new track Born Free (26 April) M.I.A, real name Mathangi 'Maya' Arulpragasam, said: "It was the first song recorded for the album.
"At the time, a lot of things were bottled up. It was a good start."
Released on 29 June, the rapper added that her as yet untitled third album was recorded in LA and was about being "disconnected" and "not being able to leave there for 18 months."
Meanwhile, the latest figures from ComScore say the number of videos viewed online in the UK has increased by 37% year on year in February, to 5.5bn.
YouTube is the most popular online video destination in the UK, with 99.6% of all videos viewed.