New 4G Apple iPhone 'found in bar' says Gizmodo website
By Dan Whitworth
Newsbeat technology reporter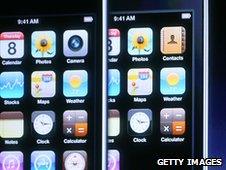 You know what it's like, you're in a bar and have had a few drinks. Then on your way home you check you've got your keys, your wallet... your phone?
Well according to reports on a number of technology websites it was much worse than usual for one software engineer at Apple.
They claim he lost a prototype iPhone 4G, the hotly anticipated update of the best selling phone, due out this summer.
After getting its hands on it, one website published pictures of the device, describing lots of changes from the 3GS. Features like a front facing video chat camera, a flash and a new flat, generally more square design.
The software engineer was reportedly drinking in a bar in California last month when the phone, disguised as a 3G version, was either lost, misplaced or stolen.
It was then handed on to the Gizmodo website which published the claims and accompanying photos and video.
Shortly afterwards, an emailed letter - that appears to be from Apple, was sent to the editor of the site.
It shows Bruce Sewell, 'Senior Vice President & General Counsel for Apple Inc', as the sender and includes the following text:
"It has come to our attention that Gizmodo is currently in possession of a device that belongs to Apple. This letter constitutes a formal request that you return the device to Apple. Please let me know where to pick up the unit."
So far there's been no comment from Apple and no independent confirmation of the story. Predictably though, the rumours have been spreading quickly among iPhone fans desperate for any news about the next version.
Related Internet Links
The BBC is not responsible for the content of external sites.