Libertines reforming for Reading and Leeds festivals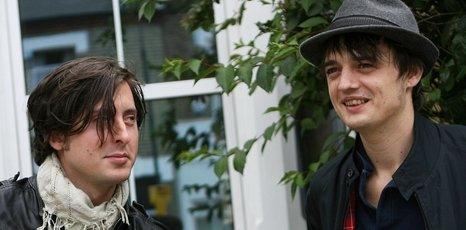 The Libertines will reform to play this year's Reading and Leeds festivals alongside headliners Guns N' Roses, Arcade Fire and blink-182.
The four original members of the London band, Peter Doherty, Carl Barat, Gary Powell and John Hassall last appeared on stage together in 2004.
During their six year absence Barat has begun an acting career and played in Dirty Pretty Things.
Doherty has released a solo album, and played with his band Babyshambles.
The 2010 festival takes place between 27-29 August at Little John's Farm, Reading and Bramham Park, Leeds.
Barat and Doherty have both spoken about the possibility of a reunion in the past, with the band suggesting it may happen in 2011.
Speaking to the BBC in January, Barat said he would expect some backlash from fans to a reunion.
"I'm sure there's going to be some hostility towards it, but if it doesn't work out at least I've given it my all," he said.
Meanwhile, Guns N' Roses last appeared at the Leeds festival under controversial circumstances in 2002 when Axl Rose and co played through the venue's curfew. They released their much-delayed album Chinese Democracy in November 2008.
Blink-182 will play their "only English shows" of 2010 at the event. Tom DeLonge, Mark Hoppus and Travis Barker last played the festival in 2003, supporting headliners Linkin Park.
Paramore, Dizzee Rascal, Biffy Clyro, Lostprophets and Klaxons also join the bill for this year's bank holiday weekender.
Last year the festivals were headlined by Arctic Monkeys, Kings Of Leon and Radiohead.
The full line-up for 2010 so far:
Reading (Friday)/ Leeds (Sunday)
Reading (Saturday)/ Leeds (Friday)
Reading (Sunday)/ Leeds (Saturday
Related Internet Links
The BBC is not responsible for the content of external sites.