Teenagers 'want to talk about sex more with parents'
By Charlotte Ashton
Revealed presenter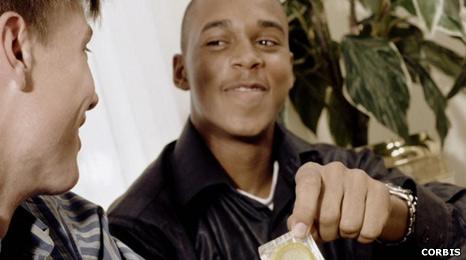 Teenagers want to talk to their parents more about sex, according to new government research.
The survey of more than 1,000 13 to 18-year-olds around the UK shows that the majority do speak to their parents about it.
But more than half of 16 to 18-year-olds who have had sex say they would have been safer if their parents had given them more information about the emotional side of sex, as well as about contraception and Sexually Transmitted Infections (STIs).
Forty per cent say they would have waited longer before losing their virginity.
Charmaine, 17, had a baby in January and says that young people rush into sex too quickly without realising the emotional significance of it.
She says she'll be more open about sex with her daughter and that she wishes her parents had spoken to her about it.
"I think if they'd have sat down and said, 'Charmaine, are you ready for sex? Do you want me to take you to the doctors? Do you want to talk about it', and I'd have said, 'Yeah', then maybe I would have thought about it a lot more."
"[Instead] I just had unsafe sex. I didn't think about the consequences of my actions. I felt I'd be shouted at if I even spoke about it.
"If your parents sit you down and say it's special and do it properly, not so many accidents would happen. And everyone wouldn't be running around bonking basically."
The survey is part of the Sex: Worth Talking About campaign run by the Department for Children Schools and Families.
Schools minister Dawn Primarolo says parents don't realise how much influence they have on their children's decisions about sex and that young people who can speak openly are more likely to delay having sex.
Claudia is 16 and says talking to her mum or dad about sex isn't embarrassing. She says they talk about relationships openly, often in the context of a TV show.
"My dad and I sit and watch Skins together and it's not awkward.
"My friends are texting me like, 'I'm watching Skins with my dad, this is wrong!' But my dad and I just laugh about it.
"Things like that can trigger a conversation. It's not an actual sex talk, it'll just come into a casual conversation."
Claudia reckons her parents' open approach has made her more careful about sex.
"I know when will be the right time and when is the right time and that I can say no."
Claudia's mum, Jane, says parents who pretend their children aren't going to have sex are foolish.
"With my son, I sort of had the conversation that you have to be respectful of a girl's body.
"It was more a decency thing. And with the girls, they've never been beholden to boys. They're not desperate for boys because they've got other things going on in their life."
Related Internet Links
The BBC is not responsible for the content of external sites.