Pupils in England and Wales to get 'download lessons'
By Iain Mackenzie
Newsbeat technology reporter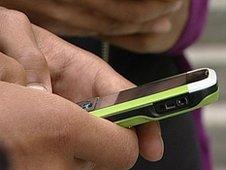 A third of 11 to 17-year-olds who subscribe to premium rate services on their mobiles have no idea what they cost, according to new research.
Industry watchdog PhonepayPlus says teenagers need lessons to help them avoid running up big bills.
They've launched a new initiative called PhoneBrain 2010, which aims to educate pupils about download charges.
London student Amy-Rose Clarke said: "I went on the internet and I must have downloaded some games.
"They kept sending these texts through about how to download more games and it wouldn't stop.
"In the end I had to buy a new SIM."
Pupils at 1,000 secondary schools across England and Wales are being taught about the way premium rate phone services are marketed and how the charging systems work.
Classes are also making their own ringtones, working with music provided by London-based rapper Fugative.
The 16-year-old star says he has fallen prey to expensive downloads himself.
"When I was younger I used to download games," he said.
"Every time you would get it you would be charged like £1.50 from your credit."
In many cases, the services may not be breaking industry rules, but don't go out of their way to make their pricing clear.
"What we have a problem with is when companies bury the information in the small print or make it difficult to see what they are going to be charged at the time," said Simon Bates from PhonepayPlus.
The watchdog received 14,000 complaints about premium rate services last year.
It says that number is coming down, but according to Simon Bates, young people can do more to protect themselves.
He said: "If you are receiving text messages that you don't want to receive any more, just reply to them with the word "stop" and that company must stop sending you messages."
Related Internet Links
The BBC is not responsible for the content of external sites.