The Strokes 'hope for new album in September'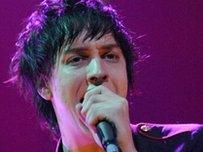 The Strokes' drummer Fab Moretti has said his band's forthcoming fourth album will be released "hopefully around September" 2010.
Working on the follow-up to 2006's First Impressions Of Earth, the fivesome are currently recording new material back home in New York.
Speaking to Radio 1's Zane Lowe, Morretti said: "We've been recording a bunch - basic tracks are done. Now we're just running around like kids in a candy shop."
He added: "Coming back in and writing music was kind of like riding a bicycle."
Whilst not revealing any song titles or a name for the album he said sessions were "pretty much a free for all - whoever has the best idea".
As previously reported, the band already have a number of high profile UK shows confirmed this summer including headline slots at June's Isle Of Wight and Rockness festivals.
Moretti said: "We're going to rehearse as soon as we get out of the studio. As soon as we're done recording we're going to go in and practise all those old songs.
"I'm nervous as hell. It's giving me butterflies in my stomach.
"To be honest I haven't really been thinking about the old songs as we're so into recording these new ones.
"It's less the songs themselves and more the response from the band that I miss terribly. I'm excited."
Related Internet Links
The BBC is not responsible for the content of external sites.